Casual artist, based highly off multiple fandoms.
My Gaming youtube.
www.youtube.com/channel/UC6tCr…
I love Summoner's War. :3
If you want to talk with me, here's my discord. I welcome anyone who isn't an asshole.
discord.gg/UUcfdZc
- GemClan's Hangout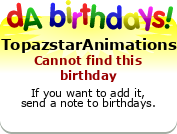 Favourite Visual Artist
N/A
Favourite Movies
Many! Especially Ones w/ a bit of Romance :3
Favourite TV Shows
Steven Universe, Star vs. The Forces Of Evil, and other fun cartoons.
Favourite Bands / Musical Artists
Many, Including Maroon 5, Owl City, Imagine Dragons, etc.
Favourite Books
Warriors Series, Harry Potter Series
Favourite Writers
Erin Hunter, JK Rowling
Favourite Games
Minecraft, Super Smash Bros Brawl / 4, Cpu games
Favourite Gaming Platform
PC, Wii-U (Wii feature)
Other Interests
Fav color - Orange. I've taken a liking to Kirbs atm.