Hiya! Long time, no write.
I have been a busy bee in my absence, and managed to finish up several art show submissions, my kiriban, and a contest entry, so I am feeling quite pleased with myself

But this journal entry isn't about me; it's about

Skoryx is offering free requests at the moment, and y'all just KNOW I had to get in on that. Part of the request rules is sharing his

page infos, which is what this journal is for.
Be sure to check out his
gallery
! There are lots of cute, colorful pieces, but my /personal/ fave is
What a witch

Mi'iwi (that's all)

UPDATE: Skoryx has been so amazing and patient with me asking for changes to my request. He is a pleasure to work with, and I think excellent deviants should be rewarded with kind words, comments and

so OF COURSE I had to commission him for more awesome art! Here's the beautiful drawing he did of my friend ShiningLegacy !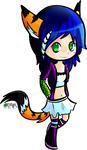 Miigweetch Skoryx!