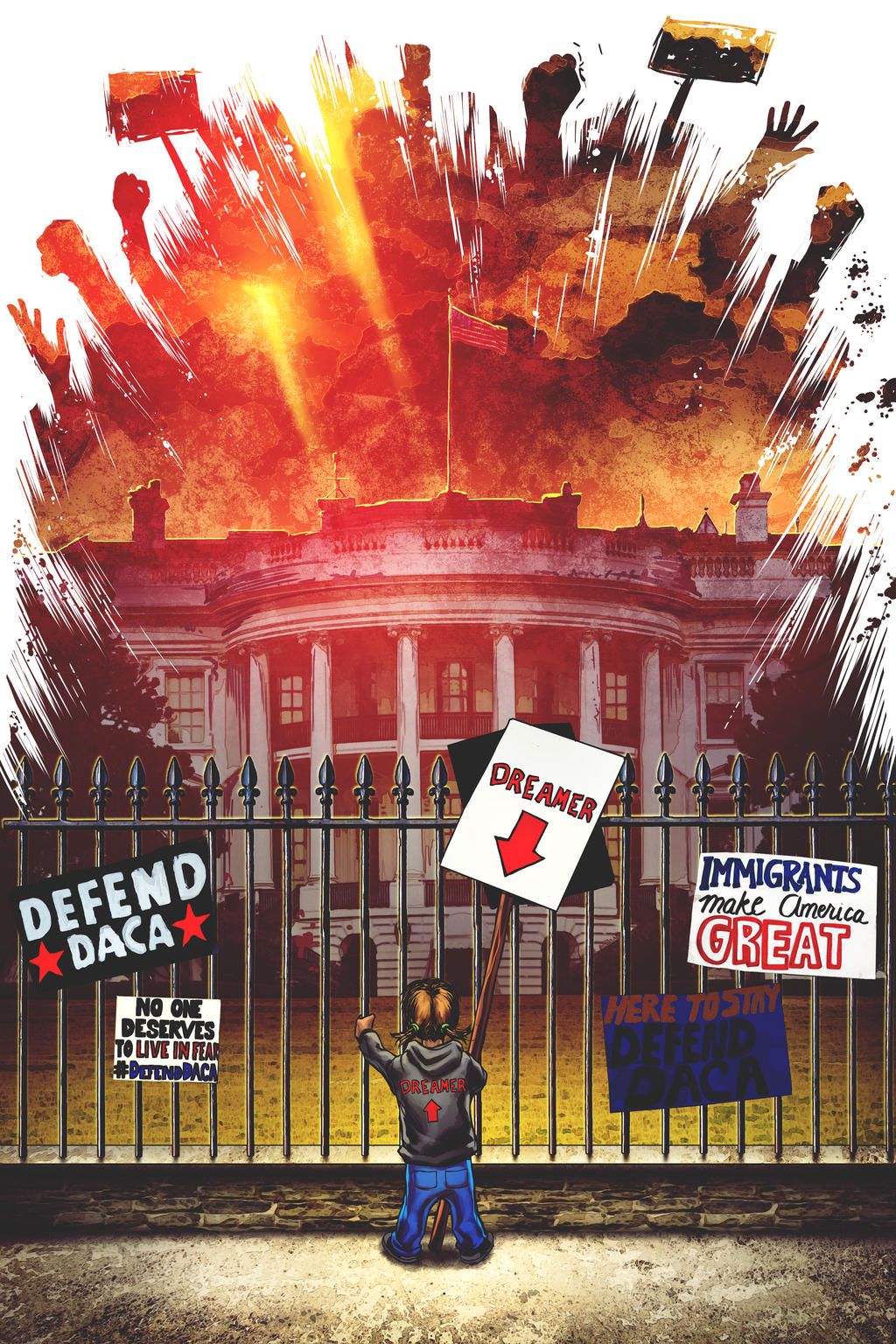 Watch

I don't understand what all the furor is about.
Reply

Unfortunately, the divide is getting greater and greater in this country and having a leader that openly supports the divide only creates even more horrible issues within the nation. This piece was done to support a fundraiser for DACA support to help to continue the fight that Dreamers among many others need more than ever.
Reply

My family "emigrated" to the US before DACA and we had no need for it. Aside for an increase in domestic American stupidity I don't understand what's changed exactly? My country of origin deports foreigners all the time. The US government provides them with the money to do it as often as they do otherwise locals put them in a grave. I honestly don't see deportation as a problem.

Besides, it's a better investment of time and energy to pressure the US government to pressure the governments of the countries DACA people are coming from to serve their people. US based corporations do billions in business abroad and have to report that revenue to the IRS. It would be nothing for the US government to turn up the pressure on that end of things alone.
Reply

When a family crosses the boarder and has a child here, that child later in life now is being sent back to their country of origin. In some cases the now adult has gone through the system to become a citizen and is still sent back. Some even join the armed forces to protect this nation and are still sent back to their country of origin. The system needs to be fix to protect them.
Reply

Which is unfortunate, but I'm even less in support of DACA as either a stopgap measure or as precedent for revision to citizenship eligibility than I was before your elaboration. It sounds like immigration law doesn't allow the government in the act of deportation to break up a family. Frankly, having seen the American social welfare complex, I think it's best to keep as many people out of direct government handling as possible. As such, I agree with deportation of a family to keep it together, even if one or more children are US citizens. When that child comes of age, they can then proceed to the nearest US embassy or the US border and begin actuating on their citizenship.
Reply

It is very unfortunate and needs to be fixed.
Reply

Reply

Reply

Thanks as always man! It's been a while since I've done any political based art and had the honor to put this piece together for a DACA fundraiser.
Reply

Reply

Reply

Reply

Thank you, liberals, you memed Trump into office.
Reply

Why would you equate a beautiful, detailed work from a professional artist as a meme?
Reply

If you want to be a dreamer then you netter prepare for nightmares!

Reply