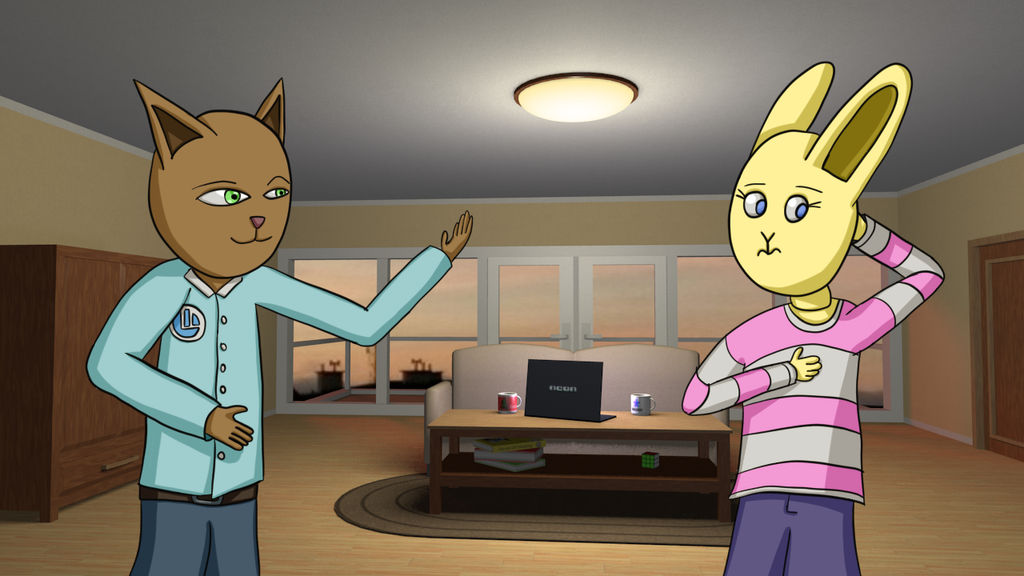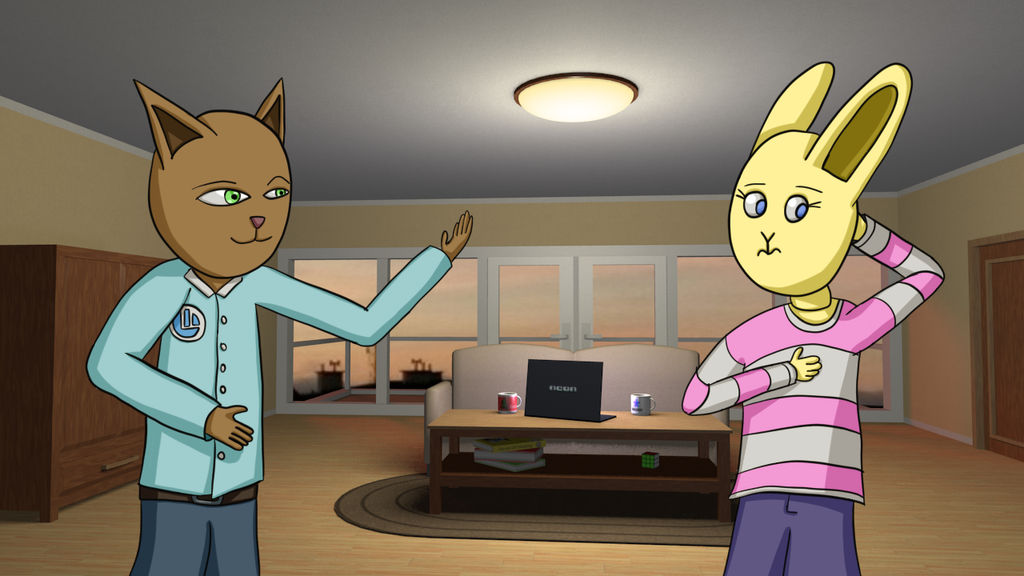 "Heh, Joy... I don't get it. You're sweet, cute and kind, y'know? How come you haven't gotten a girlfriend or a boyfriend yet?"
"Uhh... Hmm... I don't know... I just... Never got around to..."
"You got someone on your mind? You're seriously flustered!"
"No...? I... Uhh... Maybe...? I don't know... If I should tell you this..."
"Tell me what? I don't know why you're so worried, I'm your bestie, I ain't gonna tell anyone!"
"Uhh... Alright... I have a crush... on you..."
"Well, that's good to know, 'cause I got one on you too!"
"...Really!?"
"Yeah. I mean seriously, how can I not love ya? Honestly, I was wondering when you were gonna tell me that, heh."
"...You knew?"
"The fact that every time we'd watch some stuff you'd snuggle up kinda gave it away, y'know?"
"B-but you said you were okay with it!"
"Yeah, 'cause I love that! ...'cause I love you..."
"...Y-you... You love me? But..."
"Come on, don't be shy around me, Joy! You're such a sweetheart, it's hard not to fall for ya!"
"...Oh... You... You want to be my b-boyfriend?"
"Yeah, don't you?"
"...Yes, but... you're serious, Andre?"
"As serious as I can be. So, you wanna be with me, holdin' hands, kissin', all that good stuff? I know I do!"
"...Yeah... Oh... I love you, Andre!"
"...I love you too, Joy... I love you too..."

Finally, I'm done with this picture! Gotta tell you, but a lot of work into it but I'm proud of it!

The cat dude's name is Andre Greene. He's a cool guy, but doesn't really like hanging out much. Due to his very good looks, he's very popular with the

girls, much to his annoyance, as he doesn't like getting too much attention and also because he's gay.

The bunny guy's name is Robert Jass, nicknamed Joy. He's very shy and quirky. Loves music and movies a lot, and has some remote popularity around people

for being an adept musician. Some people mistake him for a girl, which he finds groan-worthy.

Before anyone asks... yes, feel free to draw 'em if you want to!

Drawing done with Krita
Background done in Blender, with textures created using Wood Workshop and paint.net. The sky's a photo I took.

Big thanks go out to DreamyBunny for feedback!