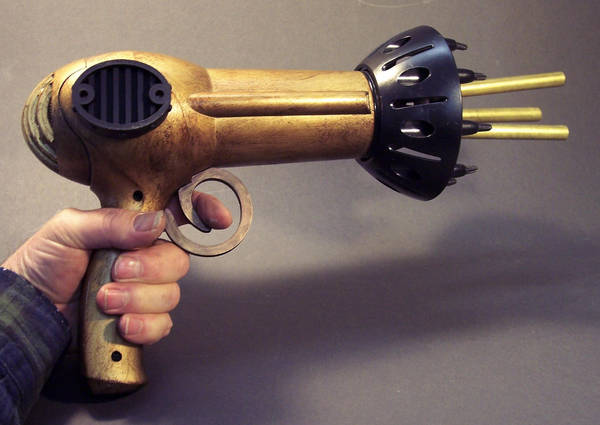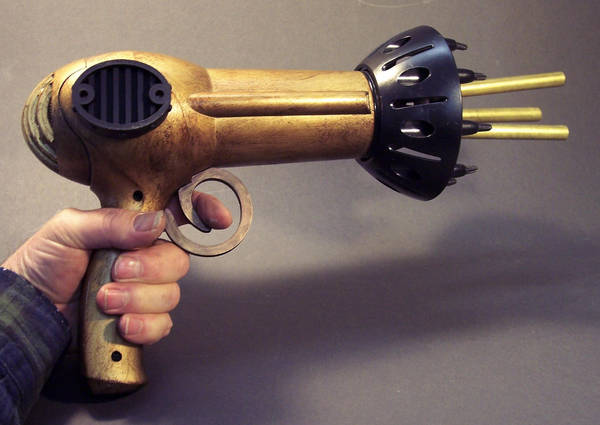 Watch
The Steampunk Underground Explorer's weapon of choice. Cuts through rocks like butter, and vaporizes any alien life forms encountered.
Hmm, not bad, but compared to some of your other works, this one seems a little bit more like a work in progress than a finished work compared to some of your others, like it's not quite finished yet. Like it needs a few more touches to make it feel whole and complete.

I think it's the black plastic bits, maybe some darker silver for those portions would make them seem less out of place? And that ridge along the barrel is dying for a faded metallic red. But the overall simplicity of the design is absolutely retro and cool.
The Artist thought this was FAIR
3 out of 3 deviants thought this was fair.
Not only am I a fan of all things steampunk but since *TomBanwell has joined Deviant Art I've also been a fan of his work. He has a natural and seemingly effortless talent when it comes to sculptural, photographed and skrimshanded works.

As mentioned by the writer of the previous critique on this work, this piece does come across as a 'work in progress' rather than a finished, refined piece. In fact I'll even go so far as to say that this piece looks - for lack of a more eloquent description - like a hair dryer. Compared with his other 'ray guns' this one is unusually minimalist. But then again this model of ray gun is designed for more heavy duty 'blasting away of rock', etc. and is (probably) therefore a case of 'form follows function'. Needless to say it looks like this project was slightly rushed with the end protrusions applied at the last minute and the accents are bare and unpainted. The trigger, however, is well designed and makes a very nice focal point. With just a few more curlycues, fins and industrial strength widgets and dials this piece would easily be as impressive and memorable as all of the other ray guns.
The Artist thought this was FAIR
5 out of 5 deviants thought this was fair.