Dear raiders! It's that exciting time of the year again – time to show your art skills and win awesome prizes. We're inviting you to join our
2nd grand art contest !
TOMB RAIDER CARD DESIGN
As the name suggests, you are to design cards into which you'll input time, effort, originality, skills, and most importantly,
show us how you can utilize something simple and through your distinctive style turn it into something special and unique.
It may sound super easy, but read further!
Your task is to
design 5 cards
! The theme and idea is up to you to choose, you can utilize
ANYTHING that belongs to the Tomb Raider universe
and turn it into card designs. There's got to be both diversity and unity in your deck of cards. Each card should be different, yet you need to make sure that there's a consistency in them and it's not a collection of random TR objects -
Make sure it is clear that all of the cards belong to one single deck.
How do you do that? Via style, theme, story, etc. – it's all entirely up to you!
Here are some examples of wonderful card designs by other deviants:
(they're outgoing links, so right-click to open in new tab for full size)
As already mentioned, you can revolve your card theme around anything that belongs to the Tomb Raider universe. It could be Lara's outfits, Lara's evolution, enemies, locations, sequels, smaller objects, the possibilities are endless. These are just examples, not strictly given themes, so we encourage you to be creative and take time to think your concept through before jumping into the actual design process. Chances are - the first concept you think of is something everyone else thought of as well!

You need to design 5 cards
– no more, no less

2 entries per participant allowed
- if you want to, you can enter with 2 entries, meaning you have to design 2 different decks of 5 cards. They won't be judged as one deck of 10, but as 2 different entries.

Don't reference or remake concepts of official promo material
, the design needs to be made from scratch from your own idea. You are allowed to use valid stock for pose references given you properly credit them in the description!

No collaborations allowed
, the work must be solely yours

No nudity, sexual themes, or display of unrealistically proportionate features
– you can stylize and distort proportion, but keep a tasteful boundary

Your cards should be minimally 1500px in height
- the shape is up to you, but all 5 cards must be the same shape and size. You may download an empty template from somewhere given you properly credit the author

You have to be a member of the group
to be able to participate and submit
Since there are 5 cards, you won't be submitting them all separately.
You will put your 5 cards in an archive and submit it to deviantArt. When you are uploading archives you have to choose a preview image so
here's what to do
: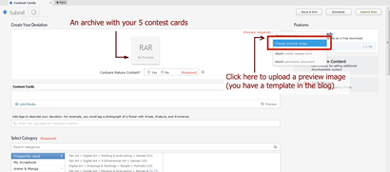 (right-click and open in new tab for full size)
Your preview image should look something like this :
Your submission should have a note in the artist's comment saying that this is the entry for the "TOMB RAIDER CARD DESIGN" Contest and have a link to/avatar of the group.

Your entries should be submitted to the Contest 2 folder.
Your pieces will be judged upon 3 criteria:

Technical Skill
(anatomy, rendering, lighting, etc.)

Originality
(what is your concept, how original and interesting your idea is)

Overall Impact
(how your piece feels overall, your style, design choices, etc)
You will be able to get up to 10 points for each criterion, meaning you can get 30 points max. The submitter with the highest score wins.
As you can see, you don't need to be an amazing painter with crazy technical skills to win. You know where your strengths and weaknesses lie, make sure you make the best of your strong sides. Be creative, be original, make your creative choices wisely and the victory in the contest will be yours!

The final date for submission is
January 1st 2015, 00:00 CET .
To check how much time is left simply check the front page of the group where you'll find the
countdown ticking off the minutes to the deadline.

1st place
Golden Edition of Lara Croft and the Temple of Osiris
(Lara Croft mini figurine, the map of the Overworld, the Art Book, the game itself
for the platform of your choice
)

2nd place
The Tomb Raider: Ten Thousand Immortals novel, 6 months premium membership

3rd place
3 months premium membership, a collaboration commission
(up to 2 characters, complex background) from the founders
Pencil-Stencil
and
Inna-Vjuzhanina
The first 3 places are chosen by us Admins
via the already explained points system. There will also be a
people's choice 4th place
where the members will do the voting – after the contest ends we'll let you know how to vote.

Raiders' choice, 4th place
1 month premium membership, a collaboration commission
(1 character, simple background) from the founders
Pencil-Stencil
and
Inna-Vjuzhanina
THE CONTEST IS INTERNATIONAL
and we will send the prizes to any of our raiders' manor! Happy raiding and make your own luck!
HELP AND TIPS
(if you have any questions, write a comment on this blog entry – if we get some questions frequently, we'll answer them here)

If you are drawing traditionally but want to make a duplicated-flipped design, you don't have to draw both sides. You're allowed to scan, and duplicate/flip your image in a software

If you are posing in XNA, make sure you don't just create 5 random poses and slap them on the card template. Be original, use lightning and post-editing to make the best of it

Whatevever you choose to do, concentrate on overall card design. It can be something detailed and inctricate, like a Tarot card or it can be completely minimalistic. It's your style and utilization of idea which will make the strongest impact.
Best of luck, your
Tomb-Raider-Empire
team,

,

,

.
Happy raiding!


When You finished assesing, can you publish the score eats one reached? Although they didnt won? I would be really interested in the score i reached!