Deviation
Submit your art
Upload your creations for people to see, favourite and share.
Status update
Post an update
Tell the community what's on your mind.
Journal
Post a journal
Share your thoughts, experiences and the tales behind the art.
Literature
Submit your writing
Upload stories, poems, character descriptions & more.
Poll
Ask the community
Find out what other deviants think - about anything at all.
DA Muro
Paint a picture
Experiment with DeviantArt's own digital drawing tools.
Bank is CLOSED
Welcome to the Toko Tokens Bank, the primary hub for the exchange and application of items and TT.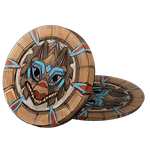 Need help on how to get started? Check out the
Toko Tokens Bank Guide
Rules
No more than 5 TT exchanges per comment
Do not try to purchase an item if you don't have enough TT, wait until your TT exchanges go through.
Do not comment anything other than you banking comment. (No thank yous, no conversations - this is to keep the comment numbers down.)
The first step to start utilizing the Toko Tokens bank is to make a bank account. You must create an account before exchanging TT, applying or purchasing items.
Comment here to
change your bank username
declare your primary bank username

This will be the username that dictates which document your bank account is in

add a secondary username to your bank account

These will be added to your bank account so that you may redeem, transfer, purchase, etc. from a secondary account. You must declare your primary account when you post these transactions so that bankers can find you!
View Current Bank Balance:
FOR USERNAMES 0-C
FOR USERNAMES D-H
FOR USERNAMES I-L
FOR USERNAMES M-Q
FOR USERNAMES R-S
FOR USERNAMES T-Z
To find your account, use ctrl f and type your username.
TT Exchange
To exchange items,
pelts, and fish
you have found via group activities for Toko Tokens or transfer TT to another user, reply to the corresponding comment below.
Here is a handy dandy TT calculator to easily add up how much TT you have earned.
You can find that here.
Redeem treasure chests and first aid kits found through Exploration and Caving
Each treasure chest / first aid kit will be opened here and the contents will be added directly to your bank account.
Purchase an Item
To purchase an item from
The Trading Post
or redeem prizes from contests, reply to the corresponding comment below. Please include any discounts, with proof. If you are utilizing a tribe discount, link to your tribe's progress tracker, so we know you are eligible to use it.
Item Application
To utilize an item you have purchased, won, or found in activities, reply to the corresponding comment below.