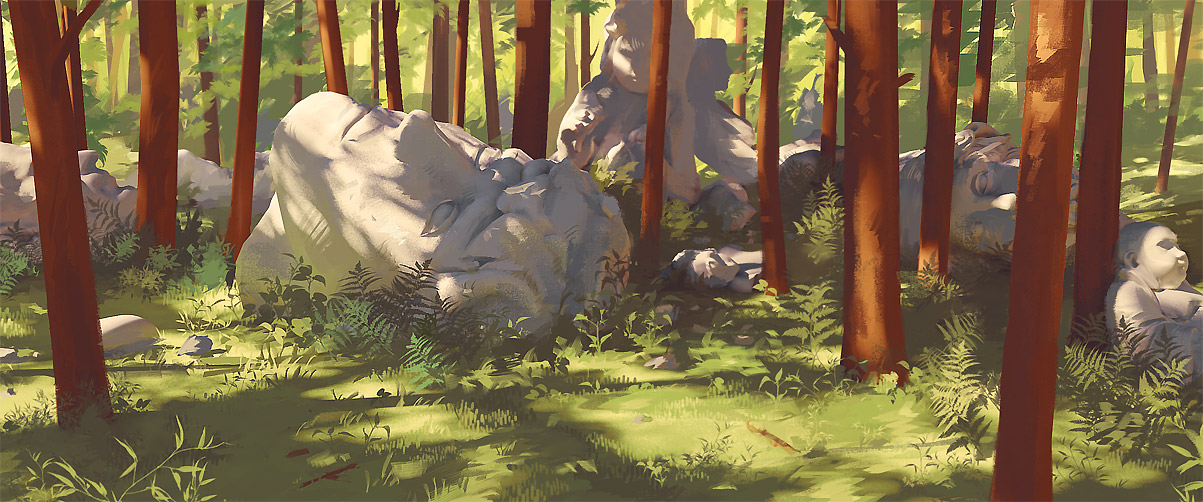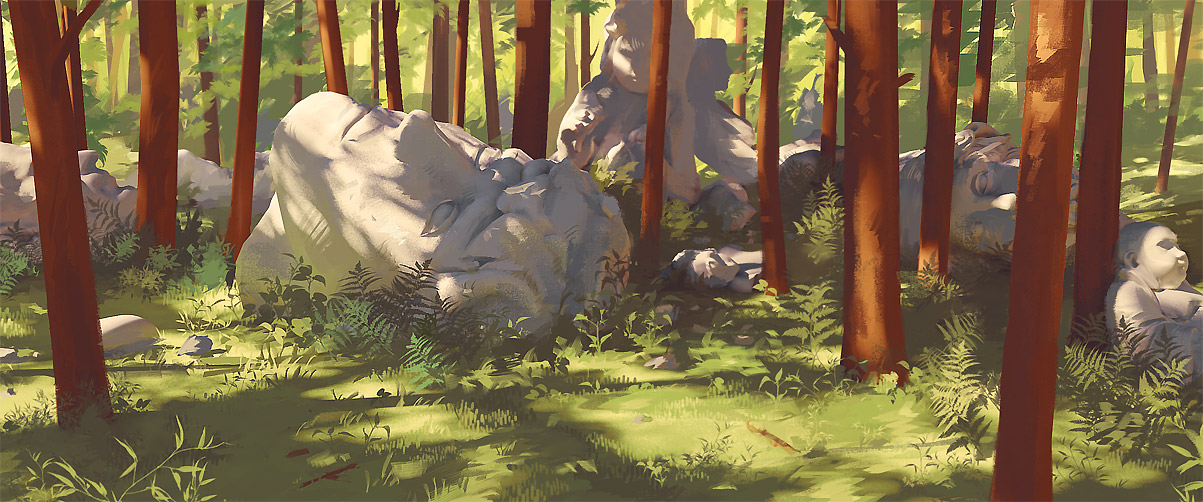 Watch
ENG :
The heartwood of antigone. Stage for the next volume of my free webcomic "neighbors of chaos" :
[link]
Version française :
[link]
6 hours of work

(edit thank for the DD !! )
FRENCH :
Ca fait longtemps que je voulais me mettre à dessiner ce lieu, c'est l'un des décors que vous retrouverez dans le tome 2 des Voisins du Chaos. C'est au cœur du bois d'antigone, pas loin de la demeure de Léthan.
Pour faire ce décors, j'ai du casser plein de vieille statues que j'ai acheté pas chers à l'office du tourisme grecque. Comme ils sont ruinés, ils bradent tout leur bibelots touristiques.
Je reçois ces derniers temps beaucoup de courrier de lecteur pour me demander ce que devient Hikarion depuis qu'ils ne s'occupe plus des aplats de ma BD.
Et bien, le pauvre ne va pas fort, malgré le fait qu'ils soit devenu multimillionaire après m'avoir fait un procès pour l'avoir rémunéré avec des fausse pièces en chocolat. C'était du chocolat blanc et il exigeait du praliné.
Mais malgré nos différents, ma présence lui manque beaucoup. Il m'écrit souvent pour me dire qu'il regrette tous ces merveilleux moments passé ensemble lorsque que je l'emmenait faire des tours de manèges au jardin des plantes.
Depuis, Hikarion noit son chagrin dans le chocolat :
[link]
Ça a au moins le mérite d'être spectaculaire.
D'ailleurs en parlant de performance, suite à la vague de froid le transformateur EDF du quartier de mon atelier a pété et nous avons été privés de courant pendant deux jours. Au moment où je vous écrit je suis en train de pédaler pour alimenter mon ordinateur et un de mes coloc d'atelier à mis ses mains au micro onde pour les réchauffer. Il sera donc possible que je mette un peu plus de temps que d'habitude à répondre aux messages.
Bon sinon je rappelle pour les toulousains, que demain à 19h à lieu le 10ème Café Créa au pub London Town, toutes les infos ici pour les intéressés :
[link]
Anothers landscapes of the neigbors of chaos :