Well I keep finding myself explaining various plot points or origins every time I post a new selkie picture and corresponding vague blurb, so I thought it would be a good idea to have a central place where you can read up on the story, if you like. The idea is that I'll update the story here when I upload a new illustration, and fill in major plot points which aren't getting covered in the picture, so check back if you're interested.
BEFORE I START, I will answer once and for all this question: "Is this from Ondine/Secret of Roan Inish?" Not really, this story is as similar to either of those as they are to each other: they are all from the same mythology, but this series is about characters who do not exist in another selkie retelling. Here is some reading on basic selkie mythology:
en.wikipedia.org/wiki/Selkie&n…
;
1) Corresponding picture is "Selkie's Bath"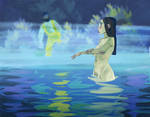 A lonely fisherman in a vaguely Irish setting stumbles upon a beautiful bathing woman- and then sees her seal skin. He takes the skin and hides it, thus binding the selkie to him.
2) Corresponding picture is "New Home"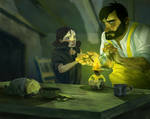 He takes her home, wrapped in a rough blanket. She follows him, because she doesn't know what else to do-- she doesn't really understand what's happening.
3) Corresponding picture is "New Life"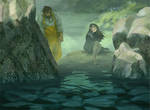 The selkie spends the whole night searching for her lost skin, so that she might return to the ocean. The fisherman follows silently behind her, neither helping nor distracting her. He is battling his own demons-- guilt over taking a creature from its habitat, and his overwhelming desire for this unearthly creature he doesn't even know.
When she doesn't find the skin, she watches the sun rise, realizing she's not going anywhere.
4) Corresponding picture is "Selkie -- 4"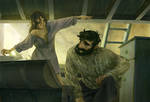 Everybody's got to wear clothes, even girls who came from the water. He roots around in his trunk for something suitable, as she delights in the curious fit and feel of clothing on her skin. He is glad to see her smile.
5) Corresponding picture is "Selkie -- 5"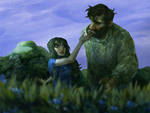 An innocent and unintentional seduction. One twilight, she is curious what the fisherman's beard feels like. He struggles to remain respectful-- after all, he hardly knows this strange girl, and she doesn't know what she's doing.
6) Corresponding picture is "Selkie -- 6"

The selkie has been enjoying herself, but she's homesick. She tries to return to the sea, only to find that she cannot. The reality of her situation begins to sink in.
7) Corresponding picture is "Selkie -- 7"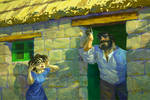 Time has gone by. The fisherman has been trying to keep her a secret, not quite knowing why. But his friends are curious about how he's been spending all his time, so on a market day, they prepare to go into town. The selkie puts her hair up special for the occasion.