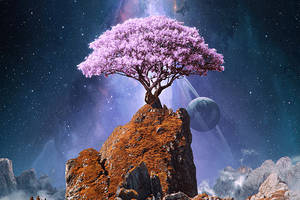 Unconditional Support
Support my work by contributing to my tip jar. This tier won't include any specific perks, but you will receive my appreciation.
---

Description

All wallpapers also are available at GT-Graphics.de!

Lux Aeterna
english: eternal light
german: Ewiges Licht
I wanted to try something new. It's a monument of freedom. Don't ask me why, it was a spontaneous decision to draw this light. It started with terragen, I've played a lot with settings and I'm proud about the outcome. The rendering failed more than 3 times (three senseless nights -.-). So I hope you like it.
Technical informations
- 700mb psd
- 8000x6000 px
- Adobe Photoshop CS, Terragen, 3dsMax9, Wacom Graphire 4
Wallpaperpack
(press download)
- 1024x768
- 1280x1024
- 1440x900
- 1600x1200
- 1920x1200
edit: changed details and colours