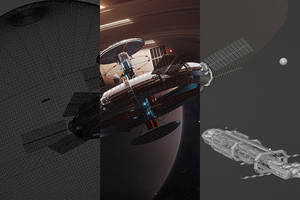 Behind the Scenes, Tips, Resources
Some exclusive behind the scenes shots, showing steps of my working process. Also stock images, and other things.
---
Suggested Premium Downloads

Description

All wallpapers also are available at GT-Graphics.de!

Earth 2250
Second picture of my Earth-Series. The years are randomly chosen. This time earth is completely covered by ice and snow. Maybe caused by changes of climate or by third worldwar and atomic bombs. Just some people survived this progress, concentrated in the last big cities. And some tried the escape to moon.
There's always hope
Moon -> Terragen
Details -> painted
Ship/Earth -> C4D
I especially like the window


Wallpaperpack
1024x768
1280x1024
1440x900
1600x1200
1920x1200
(but also all other sizes possible... just put it centered on a black background

)

Future Earth