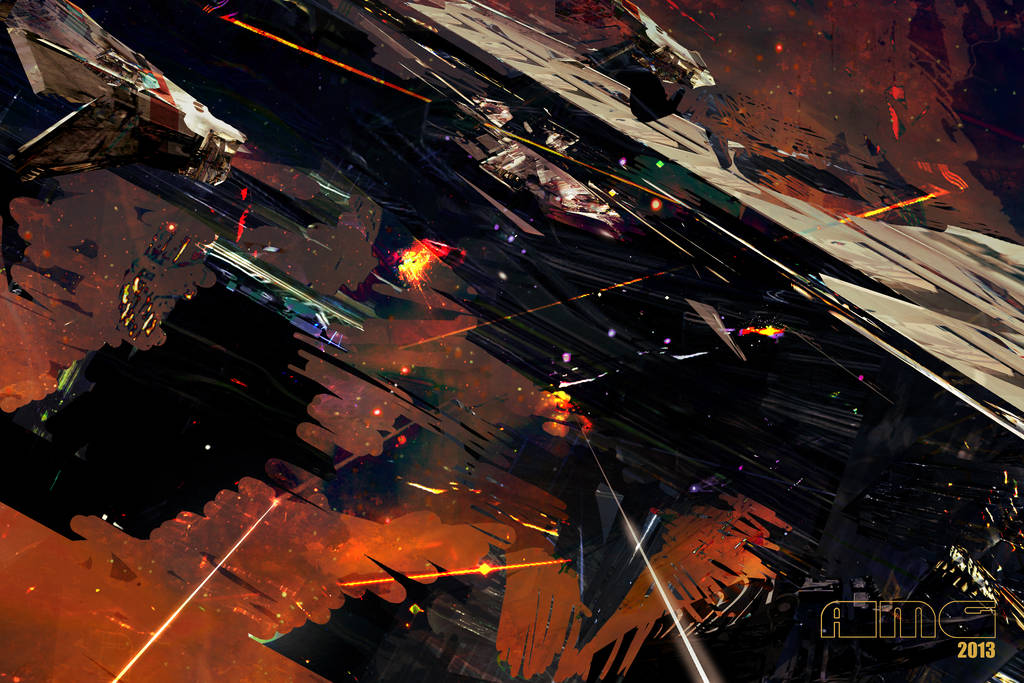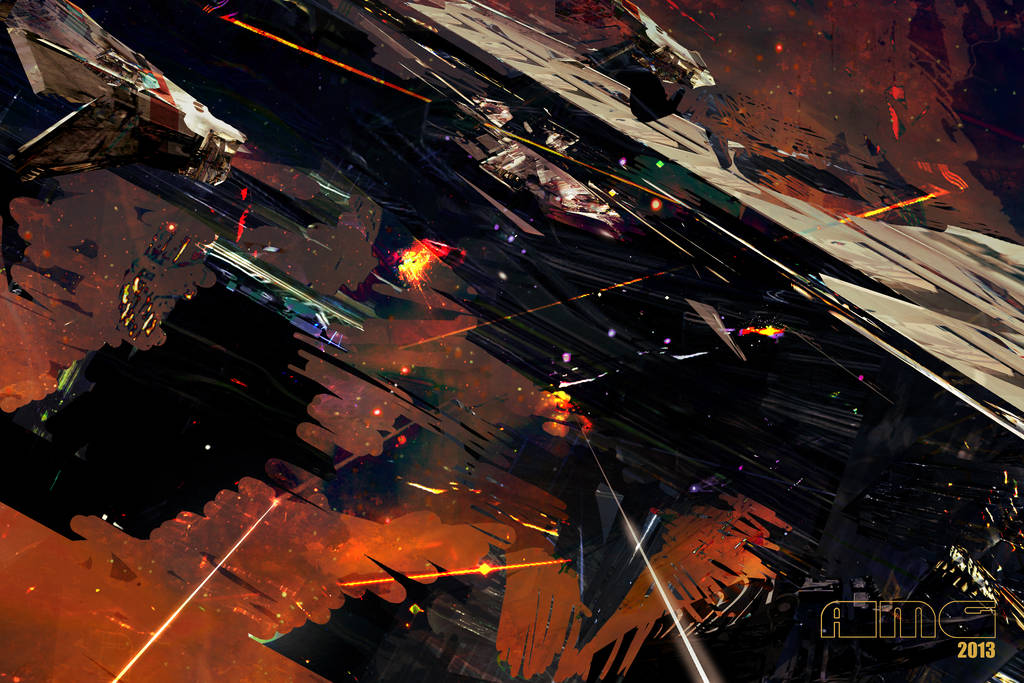 It's absolute Dogfight Chaos out there folks! So be sure to put on some real tough atire...

I kept it crazy and busy and chaotic.

This is basically what the traffic is like where I come from.
Reply

Your abstract style suits space battles perfectly. Allowing the mind to fill in the blanks does far more to capture an epic conflict than a literal interpretation ever could.
Reply

Nicely put. Thank you. Thats one of the ways I like to work. And its certainly oposite to the other latest piece I've produced, because when i paint someting thats vast and infinite, such as a spacescape, I tend to produce with less clutter, use a lower colour gamut etc...

Regards my friend.

M
Reply

Excellent work. The more you look at it the more details are revealed. Beautifully dynamic and vibrant. Exceptional.
Reply

Greetings my friend,

Very dynamic and I love your colour palette in this image.

Kind regards,

Michael C. Turner
Reply

Very chaotic! I like how you can see the brush strokes with ease yet it dosent spoil anything.
Reply

Thank you.

It's interesting when you do a busy piece, to actually get a kind of balance so it looks decipherable. I attempted to leave enough breathing space for the eyes to relax i.e. the dark ship to the left, the shadow of the underbelly of the larger ship and the orange backdrop of space. The trick is I use multi layers and then I just strip away at certain areas until Im happy with the result.

Anyhow i intended on crazyness as if the viewer has just dropped in on trouble.

Regards,

M
Reply

It is some good layerwork, I would struggle to make a battle painting look like an actual battle. You have done well at that.

Reply

Another trick is to treat it as a speed painting and not get to bogged down on particular reference. Play around with cut up pieces of other image work and try and randomise the process.

Thank you again.

Regards

M
Reply

Beautiful.
"The beams of light flashed by my like angry fireflies in a fiery meadow, blasting out and clapping against hard surfaces as I drew nearer.
Muffled noises became clearer, and the deafening light gave to balance as a colossal continent of carbonized titanium soared just past
my craft and into the blackness..."
Reply

Wow thats poetic. Cool discription, your very talented with words. Thank you my friend.

Regards,

M
Reply