In the AU where Kim and Josh are together, Ron learns of Tara's crush sooner. They got together, got married, and have a son. He was born around the same time as Kim and Josh's eldest son. He's born with blond hair like both his parents obviously, though he inherits his mom's blue eyes and his dad's freckles.
Due to both Kim and Ron remaining friends, both couples live close and hang out occasionally. Thus they brought their kids along to play together. Ron and Tara's son becomes best friends with Kim and Josh's eldest son.
While the Mankey children are the popular kids in Middleton High, the Stoppable kid is the "loser". Unlike his dad, he doesn't have the confidence to brush their teasing and bullying off, but at least he has his best friend to help him.

Related to this: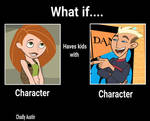 This idea is inspired by

's fanarts of the son of Ron and
Yori
.
Meme
by

Image details
Image size
732x422px 182.93 KB

That could be totally possible if our beloved Ronman wasn't that clueless about her feelings for him.🙄

I know, right? Same with Yori.
Though I mostly blame it on the 65-episode rule, which doesn't really give the writers enough to do more with supporting characters.