I'm Mexican-American, but I can't speak Spanish well. I live in Benicia, California. I'm interested in cartoons and comics.
My dream is to become a cartoonist and a comic book writer/artist. I would also like to be a voice actor, screenwriter, author, film director, producer, and video game designer.
I hope to be on the same league as Walt Disney, Butch Hartman, Steven Silver, Kevin Smith, George Lucas, Steven Spielberg, Stanley Kubrick (RIP), Arthur C. Clarke (RIP), and Quentin Tarantino.
Right now, I'm still taking classes at Solano Community College. I'll still be there for a long while until I get my associate's degree. After that, I'll be enrolling at Academy of Art University in San Francisco.
Links to my other pages:

Fanfiction.net

Fictionpress

YouTube

TVTrope

Wikia

TFwiki

Multiversal Omnipedia

FIMFiction











:thumb209868179:









:thumb263677431::thumb268991510: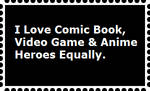 :thumb634266358:




:thumb721179392:







:thumb347344746: