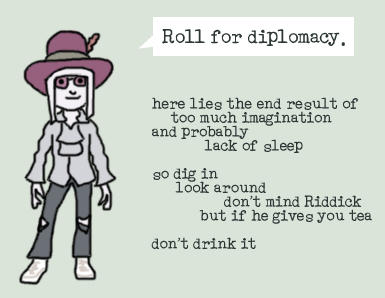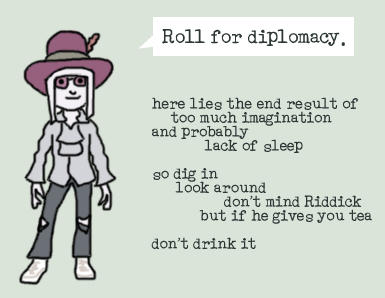 Watch
Wanted to use the actual image of my current XBox avatar (it's Aster!

) buuut after poking around Live's copyright info page of "USE AND DIE"... decided to whip out the mouse skillz instead and do the unheard-of tracefest (for me, anyways). Phear the lack of shading. PHEAR IT.
Anyways. Yeps. Pimp hat is rawkin' all up in yer... I dunno where I was going with that.

avatar's general appearance and clothing designs (c) Microsoft
Weapons of choice: screenshot for reference, Photoshop 5.5, mouse

Reply
Too late -- I think I've already had a cup of Riddick tea. It was the polite thing to do.

Have fun with the new avatar! I like it!
Reply


It's hard to resist, oh yes.
Danke! I actually spent Live points on the hat (which cost real money, but then I had a tiny balance left after getting some downloadable content for Fallout 3 and Dragon Age Origins). Now every time I turn on teh console for gameage he greets me happily, pimp hat and all.

Reply