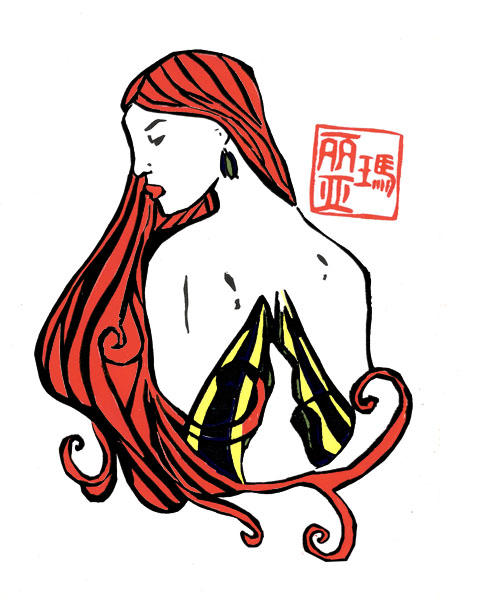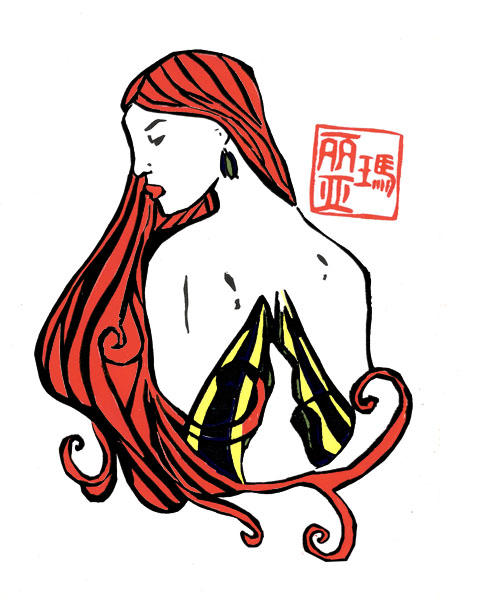 Watch
This is pretty old (03) but I never uploaded it. This was done for my screen printing class (serigraphy) using the good old traditional method of cutting the stencil and squeege-ing the paint out. 'Twas fun, especially the stencil cutting part. This design is based on an older drawing of mine which is at my Elfwood gallery.

Yeli I can't see the blue in her wings! Maybe it's the 'puter. I like since I know how hard it was to make it. I couldn't do it.
Reply

Sure you could! Nah, you can't see the blue. You know there's blue because you saw my original sketch, but the black ended up covering the blue, and what little blue there is is very dark indigo blue, not light like I had it on the drawing.
Reply

me gusta el diseņo
-malditasea serigrafia, vamoh a ver si cuando la coja ahora me sale bien alineado los colores
Reply

gracias.

van a dar la segunda parte los sabados, esa es la que voy a coger. no se, pero de todo lo que hemos "aprendido" en artes graficas, serigrafia es lo que mas me ha gustado. A ver si ahora puedo hacer camisas y stickers para vender por ahi en las ferias. Hablando de... tu podrias vender prints de tu arte en las ferias de artesania en las universidades por que en verdad que he visto una porquerias y aun asi las gente las compra y lo tuyo es mil veces mejor.
Reply

Hmm I've never done stencils but it sounds interesting

It looks lovely, I like the angle of her face and the way her hair falls around her neck.
Reply

Thanks. Well serigraphy is hard the first time. Basically it's like regular stenciling but you have to make the stencil yourself. First we designed what we were going to do, it could only hold up to 4 colors, but we could mix colors (like make green with blue over yellow, orange with yellow over red, purple with blue over red, etc...) Then we had to take 4 sheets of green film (like photography film, but not exactly -also, not 35mm film, but big profesional type film) and cut out the stencil. This was the hard part because you couldn't cut through completly. Film has two parts, the base and the emulsion, one on either side. We had to cut the base without damaging the emulsion because this is what would make the stencil. Anyways, then we had to place the finished stencil on the silk screen and paint it with this blue... thing that would make the stencil stick, then we peeled away the base and what was left was the actual stencil. The rest is the easy part. Well, placing the paper exactly each of the 4 times is not so easy, that's why in the pictures there are some white areas inbetween the red and black lines. Most serigraphy work is not perfect because of this, especially traditional handmade ones.

Well, the reason I really like this is because of it's similarity to vector art, or I should say it the other way around since vector art came later... but the end product is quite similar, so much infact, that now a days, t-shirts, posters, and many other things that are screen printed are actually done in vectors first, then they can make a postive/negative and send that to a photoserigraphy machine with produces the final product in as perfect as can be conditions. Or they can not use the machine but still using the negative produce similar results with the traditional method.

Whoo I talked to much!
Reply

It sounds very complicated o_o;; I'ts probably not as much when you actually get to it, but it sounds complicated.
Reply

yeah, well, I tend to over-explain things. I'm actually taking the second part of the class this trimester, so I'll be sure to take pictures of the process and put them up in the scaps area, should be fun. I could even write a tutorial o.O
Reply