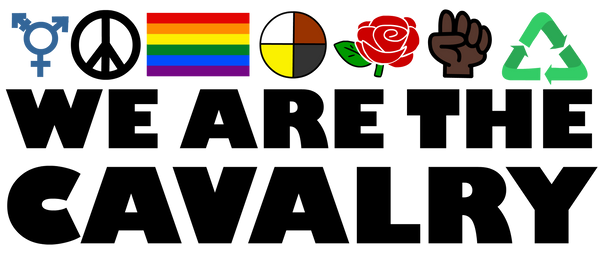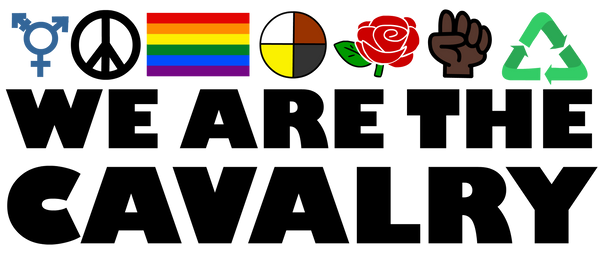 Watch
Based on
this tweet
.
If you are of voting age in the US, VOTE IN NOVEMBER.

Those who support this government's agenda, who deny the humanity of trans folk and refugees, who deny the reality of climate change, who support the hoarding of wealth by the few at the expense of the many - they will crawl over broken glass to make sure their vision is enacted.
But you can stop them.
In the UK in 2017, the Conservative Party expected to achieve an overwhelming majority in parliament, which would have allowed them to steamroll all opposition to their plans. But the increase in youth turnout delivered such a blow that they've spent the last year unable to give life to the worst of their impulses, and they're facing outright defeat at the next election. YOUNG PEOPLE VOTING CHANGES EVERYTHING. YOU HAVE POWER, IF ONLY YOU CHOOSE TO WIELD IT.


No one is coming. We must save ourselves. We are the cavalry.

Vote.

I'm gonna play devil's advocate here...

All of this hype surrounding the misterms is all fine and dandy, and rooting for the underdog is also fine and dandy; but I personally WOULDN'T vote for a political party who supports groups like Antifa and Black Lives Matter who beat up people for no good reason, other than them disagreeing with their ideals.

I've seen videos of what these THUGS can do; and I, personally, wouldn't want them to take over my neighbourhood!

I don't wanna live in a world where I'm not free to think for myself, while these people want us to think like THEM.

That's all I had to say! *gets off soapbox*
Reply

That's an understandable position to take, but that blade is sharp on both ends. If association or failure to denounce BLM and Antifa reflects badly on Democrats, does association with or failure to denounce the "very fine people" of Unite the Right, Proud Boys, Incels, and people like them not also reflect badly on the Republicans? If we're gonna tar by association, no one's clean.
Reply

I even registered to vote before the deadline.
After that surprise of Trump becoming president, I think it's only fair I start caring.
Reply

Nice!

Make sure you get out there and vote! And vote early if you can, in case you're not able to make it on polling day.

Reply

Which political party are you for?
Reply

While I admit and acknowledge their flaws, of which there are many, the Democrats are infinitely preferable to any Republican offering right now.
Reply

I think anything left-wing is 100 times better than anything right-wing.

I'm a member of the Green Party.
Reply

Power to ya. I was a member of the UK Green Party back in 2015.

Reply

Is there a reason you left the Green Party and became a Democrat?
Reply

Well, in US politics, I've always seen the Democrats as preferable to the Republicans. In UK politics, back in 2015, the Labour Party basically didn't stand for anything, while the Greens were covering the exact environmentalist internationalist left wing vision that I was looking for. Since Jeremy Corbyn became leader of Labour, they've actually got principles and much of the same policies as the Greens did, with the added advantage that they might actually be able to topple the Conservatives at the next election, having almost done it at the last election.

And right now, I just want the Republicans to lose control of Congress. The Dems seem like the best bet for that.
Reply

What do you mean deny humanity of trans folk and refugees?
Reply

Enacting policies that violate human rights and treat them as having less value than other people.

So for example, when Republicans use "public safety" as grounds to ban trans people from using the appropriate bathroom, they're essentially saying that trans people can not be treated as having self-control and possessing uncontrollable sexual urges, and they must therefore be kept away from cis people, particularly women. That's a dehumanising position to take, and relies on dehumanising assumptions.

Similarly, when refugees who follow the legal (both under US and international law) process to try to claim asylum within the US, but are barred on account of "risk of terrorism", the logic is that these people came from a dangerous place and are therefore dangerous. That the barbarism they're fleeing is not merely a product of the sociopolitical circumstances of their homeland, but of a failure of character of the people of that land as a whole. The default position is no longer "these are decent people fleeing violence", it's "these people are coming to spread their violence here". That second part is usually paired with complete ignorance of the process of applying for asylum - you can tell who has no idea what the hell they're talking about by seeing who says "we don't vet them at all". Even a quick google search would tell them that it can take 18 months of background checks through dozens of agencies to get from a Syrian refugee camp to being allowed to board a plane, or that the approved way for Central and South American refugees to claim asylum is by showing up at a border crossing or turning themselves into a US authority having crossed the border, that these are parts of the system and that people doing them are already following all of the rules. So again, the assumption that they must be criminals or terrorists, that the violence of their homeland is inherent to their person, is another dehumanising position to take. The way Republicans talk about them makes them seem like rabid animals sometimes, full blown dehumanising rhetoric, to go along with dehumanising policy.

When someone is treated as lesser, when their dignity is stripped from them and are not treated as innocent until proven guilty, that is dehumanising. And it is clear, that the modern US Republican party advocates for exactly such treatment for groups including but not limited to trans folk and refugees.
Reply

Why is it a big problem what bathroom some one use ?
i don´t want to be molested from any kind of gender in the bathroom
Reply

It shouldn't be a big problem what bathroom someone uses, especially given that while there's only been a couple documented cases of trans people assaulting people in bathrooms, every trans woman I know has multiple tales to tell of being on the receiving end of abuse or harassment. You're probably not gonna get molested in a bathroom, and you've got more odds of winning the lottery twice than getting sexually assaulted by a trans person in a public bathroom.
Reply

1. No, that is completely wrong. The reason they banned trans people from going into the appropriate bathroom was because of the out cry from women due to the fact they were being harassed by people who pretended to be a trans. One incident was where some random guy that didn't even try to look like a woman came into a woman's bathroom. Its not that big of a deal, I don't think a normal person would mind a few minutes of embarrassment. Then again, trans people aren't normal. Gender dysphoria is a legitimate mental condition, and does impact their performance. Which is why they were banned from entering the Army. Their performance on the battle field could be severely hindered by their condition, which is not only cruel for the transgender person, but for their comrades.

2. First of all, refugees can pose a significant danger because of the fact that they are unidentified. We don't know, perhaps they are wanted fugitives in their home country, perhaps a terrorist which is why all thees checks are put in place. If we went around stamping every single refugee in, we would have the same migrant crisis as we do in Europe, where people who aren't even from war zones just entering in thanks to smuggling, and terrorists coming in and recking havoc. Why do you think countries that haven't accept any, or only some migrants end up having no terrorist attacks in their country? eg. Poland. Also we have no business taking these people in, we are doing them a favor and therefore, if they have a problem with our system, they can stay in their country.


Please stop believing that the world is all sunshine and rainbows. We have bigger problems to deal with then "Muh lgbt rights" or "muh refugees!!11"
Reply

1. I could talk about how statistically crimes by trans people in public bathrooms are outweighed by a tsunami of crimes against trans people in public bathrooms, but that kinda feels like it won't matter to you. You bring up gender dysphoria as a mental illness, but seem to completely fail to acknowledge that the treatment for it is to enable the person to transition and live life as the gender they want to present as. If we're forcing people to go against that, we're derailing the treatment. Which, as minor an infraction as that seems from your perspective, is still a demeaning experience on theirs. "They're not neurotypical, so we have to control them" is still a demeaning and dehumanising position to take.

2. But they're not unidentified. I did mention the 18 months of checks, right? I'm not saying that you just open the floodgates - I'm trying to say that those who say the floodgates are already open are full of shit and don't know what they're talking about. And suggesting that a modest increase in the number of refugees approved is somehow equivalent to opening said floodgates is disingenuous at best. The US does not lack the resources to help more people. The overwhelming majority of people fleeing war zones and conflict are ordinary people facing horrific circumstances. Reasonable caution is fine, but pulling up the drawbridge because they, as a group, are somehow uncivilised; that dehumanises and demeans people caught in an impossible situation. As it stands, pulling up the drawbridge is exactly what the US is doing both at it's southern border and in it's processes for admitting refugees from elsewhere. It is not a proportionate or effective response to the crisis at hand.

3. Fuck off with that condescending shit. Just cos you can look at masses of suffering people and go "eh, they probably deserve it" doesn't mean I have to.
Reply

Jesus fucking Christ.

1. Yet the people doing this are not trans, and that is the fucking point. People are abusing the fact trans people can enter their genders bathroom to harass women. Also, just because there is medication for gender dysphoria doesn't make it any better. Its still a mental condition that could potentially impact a trans persons performance. Which could be deadly in dangerous jobs such as law enforcement or military service.

2. Im talking about a example of Europe that did something close to that. Also, the middle east is a really long distance from the US, which is a major logistical problem transporting all these people, considering we would have to get them: Safe transport, food, water, medical supplies, law enforcement, and other types of labor. This would cost a fuck ton of money, which the US does not have, and not be in any way profitable. Also, the middle east has strong anti-american rhetorics, so yes I think it is reasonable for the US to be reluctant and cautious about admitting refugees.

3. I never said that they deserve it. They don't, no human deserves suffering for no reason. What Im saying is, why should another people suffer because of another peoples suffering?
Reply

3. Y'know I think that really gets to the heart of the difference in our perspectives. Your view is that assisting those people will cause us equivalent suffering, so overall suffering goes up. My view is that the alleviation of their suffering will not increase ours in any significant way, so overall suffering goes down. The protections for us seem to me to be disproportionate to the risk, while for you, they're perfectly justified by the risk or perhaps don't go far enough. I'm not sure there's really any way for us to resolve that. Especially not in another internet argument.
Reply

hey man listen to this
www.youtube.com/watch?v=Y2sMoy…
p.s. We Are The Cavalry is thing more then a ''suicide squad''.To be frank the system we have right now it would make hitler and stalin blush.
ALSO the people whom values freedom and the truth aren't the Cavalry but. the resistance
Reply

I could write an essay on why that quote is bullshit, and then another on why Reaganism is bullshit.

Also, I think I get what you're saying with that second part, but I think you're missing the metaphor here? Like, in old movies sometimes, particularly westerns or old war movies, the protagonists would be in deep shit, until the cavalry showed up. That's why the original tweet that this is based on said "The cavalry is not coming. We are the cavalry." No one's going to show up and magically protect freedom and truth for us, we have to do it. Hence, we're the cavalry.
Reply

1. Dude I don't want a essay, please tell me why it's ''bullshit'', also clarified what do you mean.
2. I know what the
cavalry means, and the thing that ''
show up and magically protect freedom and truth for us''
I'm not saying that, but look at the situation we are in right now whom have more of the power, stronger and have numbers.
we plan our moves within the shadows.
Reply

1. It's bullshit because of the natures of fascism and liberalism. Fascism is inherently nationalistic, typically with an ethnicity based edge, and rises to power claiming to defend the traditional voice of a nation and defending from enemies both from within and without. It designates religious and cultural deviants as inherent threats, and employs extreme measures to suppress them. Liberalism proposes that all people be governed under consistent laws, that they should have a democratic say in those laws, and mandates live and let live between folks of different backgrounds. Fascism won't come in the name of liberalism because the conditions that bring fascism about regard liberalism as being "too weak", or soft. The defence of human rights becomes framed as an assault on public safety "because you're being soft on criminals and crime". Fascism doesn't come with promises of peace and love, but with the promise to restore pride to the downtrodden by treading down further on those it chooses to other.

2. Trump lost the popular vote by 3 million. Of those who voted Brexit, not all back the isolationist disaster capitalist view peddled by Nigel Farage and Jacob Rees-Mogg. Even the Nazis never won more than 35% of the vote in an election. That ethnonationalist authoritarian fringe is the minority, regardless of how tight their control is on government. Appeasement will not work. Direct and visible opposition is the only thing that will condemn this administration to the dustbin of history in a single term.
Reply

different thing-Cold War 2.0 -
youtu.be/7H-Wlqu0vZI
what do you think about it?
p.s. I didn't forget your comment, but I half choose my words carefully.
JK 2 autistic 2 digested everything.
Reply
I'm not sure what was intended, but '</span>' does not seem to be doing anything.
Reply