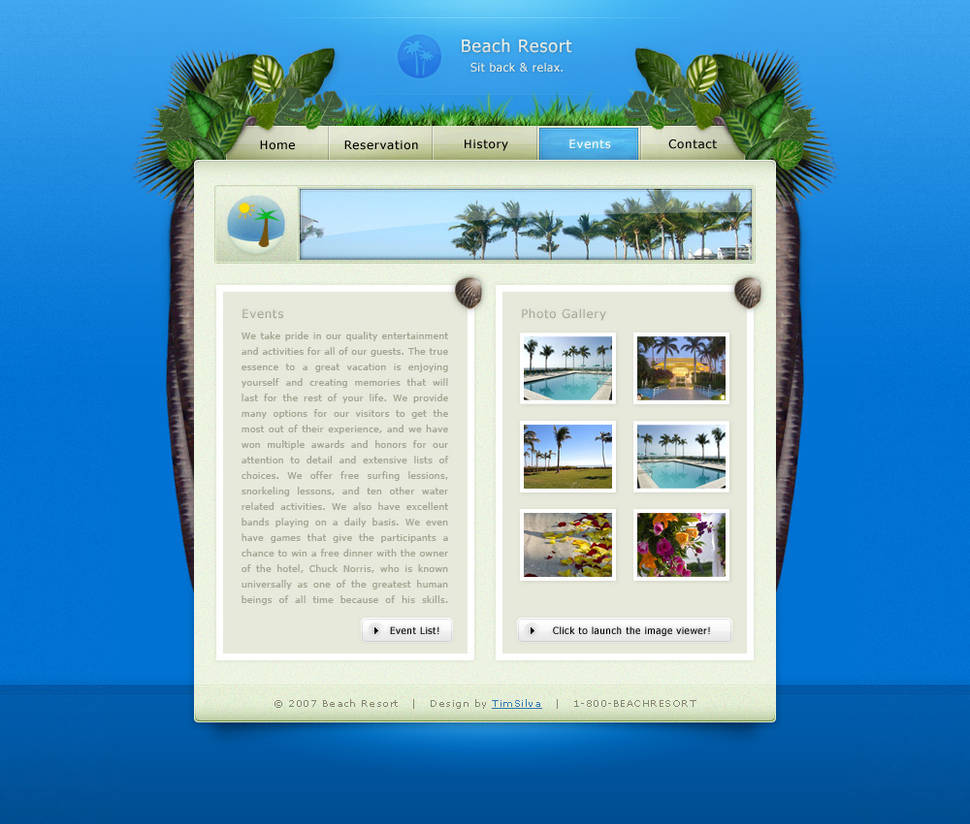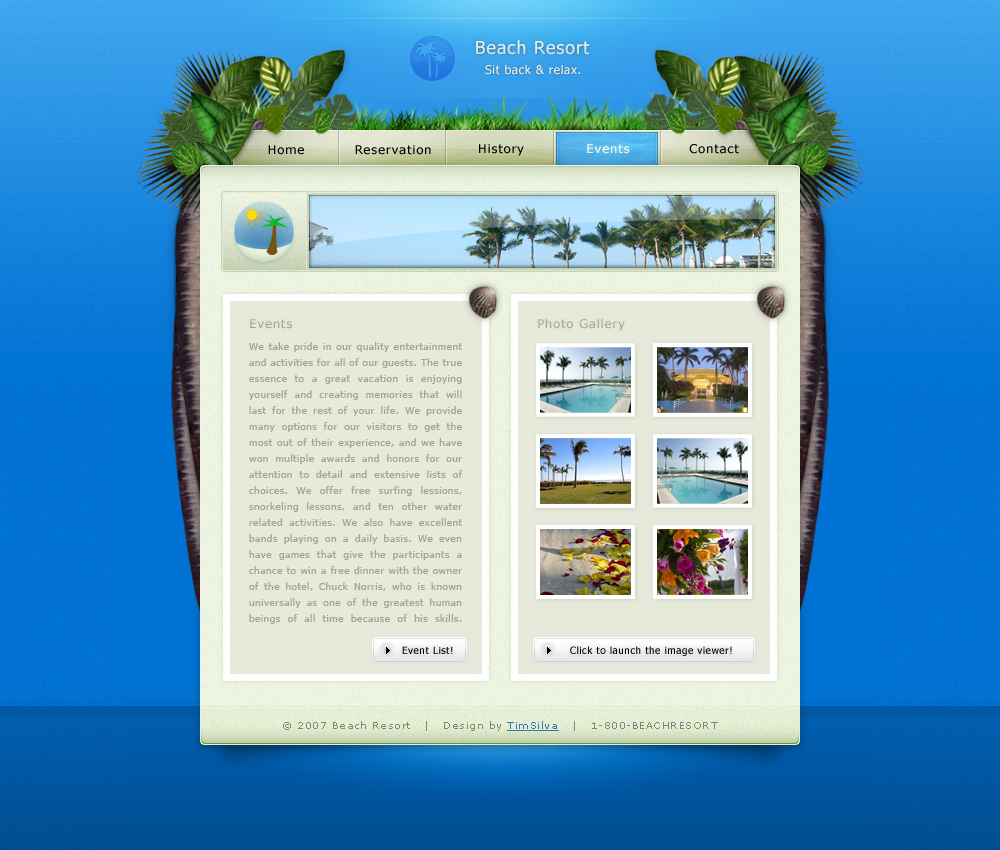 Watch
*Updated v4 - August 12th, 2010 - Added 200 pixels to the width of the design. It needed to breathe.
*Update v3 - Nov 26, 2008: I made some majors updates to this in the beginning of summer and I never uploaded the updated version until now. The organic materials are fresher and more balanced. Plus the trees on the sides look much more polished and less computer generated. I am happy with this final design.
*Update v2 - Added much more detail to the organic work and created a semi-live version with music, a preloader, and a little fading intro. Nothing special, just some eye/ear candy for those who want to understand the idea in my head a little better.
(semi) LIVE [v2]:
[link]
-------------------
v1:
[link]
v2:
[link]
v3:
[link]
-------------------
Old info...
This is my tropical beach resort template. I really just did this for fun. I wanted to make something visually pleasing that had a simple look to it. Blue is for the ocean and the beach obviously, and the tan is for sand. I almost didn't include the organic work, but It felt like it made it more 'tropical' at first sight if there was some green on there. The header was a lot of fun, there is a subtle glossy bar behind it, and the navigation is sleek-ish with some water inside the current page's button. I started this whole design with the footer's glow and shadow corners, then I gave it color and it turned into this over time. I finished most of the design a while ago, but I had some time tonight and I finished it up.
+favs & comments are greatly appreciated.
Peace

----------
Original Submission (under my old deviantART account):
[link]

Some small things i see that could be changed
1. Buttons could be in color like all filled with color, no stork needed.
2. If i see it correctly the i think on buttons there are some kind of BG or something, if it really has some BG there, then it should be taken of, because it make button look messy.
Reply

Reply

Reply

REALLY COOL- TIGHT- LIKE IT VERY MUCH
Reply

Oh i forgot

too !
Reply

Oh damn this is great, it really kinda...calms me down, it's pleasing as you said.

Reply

Nice job, looks good!

Reply