This journal is for my art trades. If you are interested in doing one with me. I am going to take 3 art trades (well 4 but the 4th spot was reserved for a friend I know in Real life if he is still interested. He should know who he is.

) I will see after I finish that one if I want to open that spot back up or not.) When asking leave a comment in this journal. That way I keep everything together. If you ask anywhere else I may miss you.
1:

(Their half Finished) Finished
2:

Had to redo. Currently in Shading process of the new one. (80% done)
3: CLOSED (For Now)
4: RESERVED
__________

(If anyone asks for one between April 19th and April 22nd and on April 25th I may be very slow at replying or completely absent. Work is super busy for Easter and on the 25th I am traveling to Toronto for my annual trip to hang out with my dear friend Tabatha.

You can still ask during that time just keep in mind I may not reply til I get free time online.)
__________

I wont start any till after next weekend I don't think as this week is pretty busy. If no one is done their part I will start from top to bottom after that. Otherwise I will go in order of who finish their part first.

Below is a list of 5 characters that you can pick from. If none of those interest you I have several along the bottom but they have less information for them right on here. You will have to click on them to see more. I picked characters from the game "Levar's Life" and the comic as I feel they probably have the most chance of inspiring people to draw them. I set up the info sort of like how you guys do in the secret santa if you take part though I added character head shots as well to make it easier to perhaps make a quick pick. There is too much writing to read everything for every character. If you want to draw more than one I have put other characters names in bold in their "brief history" so you can see who sort of connects with who and how.

_____________________
Some "Lore" info if you wish to know:

If you do not know, in the heaven world all characters are cubs. You will never see a adult there. It is sort of the idea that everyone is youthful there. BUT any scars you have got throughout your life remain. So characters (like Antony) for example, in the heavenly world will be a cub but still has the 4 scratches across his eye. Even though those scars happen when he was living and as an adult.
In the heavenly world you need wings to be able to move around in the clouds. If you have done many bad things you will have to wait till you have earned them. Only "The king" can decide who earns them and he is not easy to win over. Those with them do not always need to have them seen. (I did this obviously for my own sanity since I suck and drawing wings.)


To keep things simple for now and not give away too much story for later, lets assume only spirits with favour of Danny can be either solid or spirit. (Obviously living can only be in solid forum.) On earth they can be any age they lived though in the past. So like we saw on the last two pages of chapter 4 Levar can change back into a cub to fight his son fairly. Kailas is also the same way at the end of chapter 3. (There are a few exceptions to this rule that will come out more in Chapters 5 and 6 but in following this rule you will be able to make an accurate drawing.)

_____________________
Character Name:
Nora
Species:
Lion
Reference:
(
Click Here
)
Character Page:
fanart.lionking.org/character/…
Extra Pictures:
1
/
2
/
3
/
4
Personality:
Stubborn, Friendly, Brave, Irritable
Brief History:
(Super simplified version of her history) Nora gets her scar on her eye as a newborn. She does not even have her eyes open when it happens so chances are she has it. Surprisingly the eye is unharmed.
Mo
is a close friend of Nora's even though while she is alive he is an adult. Nora runs into
Levar
while she is a cub, he is a spirit but she sees him as if he is a solid forum. She is the first one to see him in years. When the pride is attacked, Nora is moved to
Zee
's pride for protection. She does not like being there as much though she does have two good friends. She gets into a fight that leaves her birthmark destroyed with three scars across it. Nora has 4 cubs with
Levar
.
Moson
,
Leonette
,
Sprent
and and unnamed cub. (Ok yeah some of you know his name but lets wait till chapter 5.)

Nora dies (if you don't know, don't look up how. Especially if you don't want spoilers for later projects.) Nora wakes up in the heavenly world.
Mo
is already dead and greets her, of course he is a cub and she only knew him as an adult. Nora does not have wings in this world so relies on
Mo
and a powerful friend,
Aleksander
, to get around. There is a strange connection between Nora and
Aleksander
that has yet to be explained. (Nora will meet
Antony
in Chapter 5, I guess I can spoil that as there is a sketch shown of the two of them talking about Chapter 5 in my scraps.)
Anything to say: If drawing Nora, keep in mind if she has died her fur colour is the same as her as a teen. If she is alive and she is a cub her fur colour is lighter. But that is only if she is alive.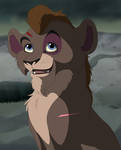 Character Name:
Levar
Species:
Lion / Ghost
Reference:
(
Click Here
)
Character Page:
fanart.lionking.org/character/…
Extra Pictures:
1
/
2
/
3
/
4
Personality:
Rebellious, Vindictive, Protective, Self-reliant
Brief History:
Levar leaves his pride when he is a young cub with his older brother
Randin
. It is unknown if his mother is alive or not, but it is mentioned that his father has died a hero. Levar grows up in a pride away from home.
Zane (Taka)
a prince from the pride he moves into becomes his best friend.
Mokuba (Mufasa)
the future king as well as the king do not like Levar. Since his first meeting as a young cub, ended up with him scratching
Zane
(and getting the scratch on his shoulder). Levar's other major enemy is
Zee
who is about the same age as Levar and grows up with him as well. Levar,
Zane
and
Zee
are part of a group of male lions living on the outskirts of two large prides. There they meet
Kailas
and
Antony
. Levar is killed as a teen by
Zee
.
Levar's ghost roams the lands. He is given an opportunity to become a solid forum again if he agrees to give his second cub to Danny, a sort of devil like lion/tiger. He is promised they would never meet, and so the pain of losing them would not be too bad. Levar agreed. (I don't want to spoil too much so I will make that super short.)
Levar eventually finds Nora. The two slowly become friends and soon more than friends. He is the father of her 4 cubs. The second oldest being Leonette. Nora dies shortly after and Levar takes on the father role to his oldest cub Moson. Training him to one day destroy Danny for good.

Anything to say:
Levar's original story has him living with Mufasa and Taka/Scar when he is growing up. For the game I had to change up the characters just to stay away from copyright stuff. It also helped because Mokuba is a bit of a jerk to Levar in the game. This may not be who he really is, the game is through the eyes of Levar. You are welcome to put Mufasa or Taka/Scar in place of Mokuba or Zane. But only if you are drawing them with one of my characters of course.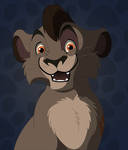 Character Name:
Moson
Species:
Lion
Reference:
(
Click Here
)
Character Page:
fanart.lionking.org/character/…
Extra Pictures:
1
/
2
/
3
/
4
Personality:
Adventurous, Calm, Rational, Neutral
Brief History:
Moson is the oldest cub of
Nora
and
Levar
. Living with him he has two other siblings.
Leonette
and
Sprent
. His mother is killed not long after he is born. He has never seen her. He grew into a cub with
Zee
as the king of the pride. He is sort of a mentor to
Tibu
, the future king as he grows up. His father appears to him when he is a young cub. From that day on he looks out for him.
Levar
is training him to destroy
Danny
forever. His friend
Maria
has a crush on him. But Moson is completely clueless to that and even okays her becoming
Tibu
's future mate.
Anything to say:
If drawing him as a teen, do not include the scar on his eye. I would rather wait til that scene has happened where he gets that so you know more where it has come from and perhaps can do it more fitting on him. That is only if you wish to draw him as a teen.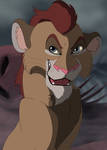 Character Name:
Antony
Species:
Lion
Reference:
(
Click Here
)
Character Page:
fanart.lionking.org/character/…
Extra Pictures:
1
/
2
/
3
/
4
Personality:
Unpredictable, Resentful, Authoritarian, Daring
Brief History: Antony is Kailas' brother. It is unsure who is older. Him or his brother as they were born to two different mothers around the same time. But they have the same father. Because Antony is a runt of his litter, Kailas is chosen to be the next king. When young, Kailas tried to kill Antony. His father saved him. Leaving 4 scars across his left paw as a reminder. Antony is very resentful of his brother who is given everything while he is often in trouble growing up. The biggest mistake his father ever did was teaching Antony how to fight. He excelled greatly at it unlike his brother. His smaller frame helped him with speed and he is rather deadly if you get on his bad side, which is not hard to do. Antony really only cares for Pekee, an orphaned male Hyena. Probably because he has someone he can sort of relate to. Though even Pekee gets more respect than he does sometimes.

Antony's biggest wish is to be respected by Danny, an evil devil like lion/tiger. But his brother is considered "Danny's chosen one." Antony hates it because Kailas also does not wish to be in this position. Antony is part of the small group of male lions that follow him. That group also has Zee, Levar, Zane and Kailas.

When Antony dies he goes up to the heavenly world. But much like Nora, Antony does not have any wings. As one might expect from him he get along just fine breaking the rules and taking up his own Territory in the heavenly cloud lands.

Anything to say: In chapter 5 we will see Nora and Antony meet. I kind of given that away in a sketch I did. So if you want to draw them together at all you can.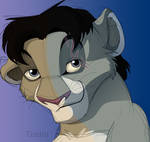 Character Name:
Kailas
Species:
Lion\ghost
Reference:
(
Click Here
)
Character Page:
fanart.lionking.org/character/…
Extra Pictures:
1
/
2
/
3
/
4
Personality:
Loyal, Charismatic, Secretive, Responsible
Brief History: Kailas is the son chosen by his father to be the next king. His half-brother Antony is also about the same age as him. But because of the health of Kailas he is chosen to be the next king. His other Antony is smaller is smaller than him. Kailas is cursed with being "Danny's chosen one." Danny being a devil-like lion/tiger. He is chosen to help bring his return. Kailas on the other hand does not want the responsibility. As a cub he is told all these great things about him and how good this will be. But as he grows up he realizes that a lot of what he was told is lies. Kailas is the leader of a small group of male cubs growing up. Levar, Zane, Zee and Antony being some of them. He always tries to be the responsible one. Kailas is killed later in life, very much possible it was the work of his brother, Antony. Kailas is asked by Levar to watch over his second born, who was promised to Danny. Being good friends Kailas agrees.

Leonette is Levar's second born. Kailas takes his responsibility of protecting her very seriously. Though it is hard. To keep her safe he has to keep Danny happy. So as long as he will not harm her, Kailas is more just watching over her.

Anything to say:
Keep in mind, Kailas' scar only shows up in the moonlight. It is more of a marking than an actual scar. There is no indent into his skin with it. After Death Kailas can be drawn with wings. You can see them in pictures 3 and 4 of his extra pictures.
These are not the only characters. If you rather draw one of the others feel free. I just wanted to give you 5 ideas and you can go from there. A bunch are linked below. If they do not have an image showing their full bodies feel free to make up how you think their lower half would be. If they have a character sheet it will be linked at the TOP of their character description on the pages below.
Aleksander
,
Danny
,
Leonette
,
Maria
,
Mo
,
Nienda
,
Nzuri
,
Pekee
,
Randin
,
Sprent
,
Tibu
,
Timitu
,
Zane
,
Zee