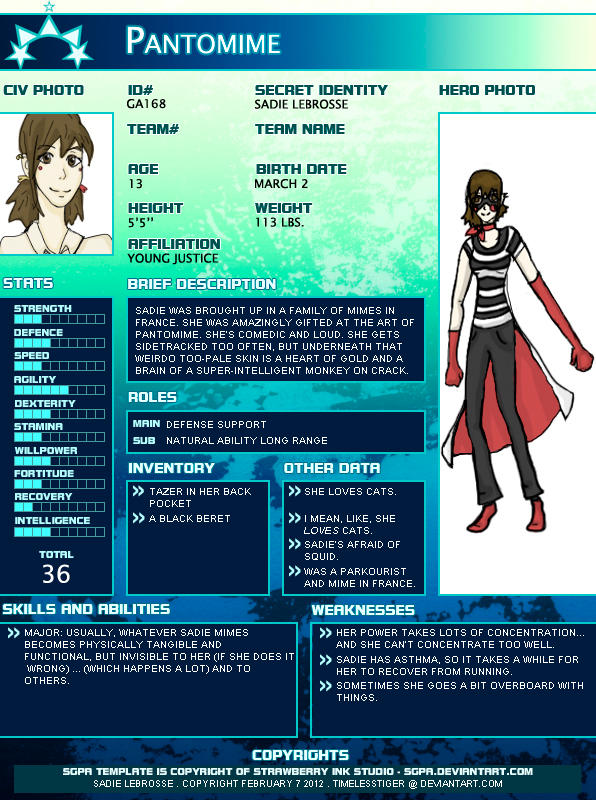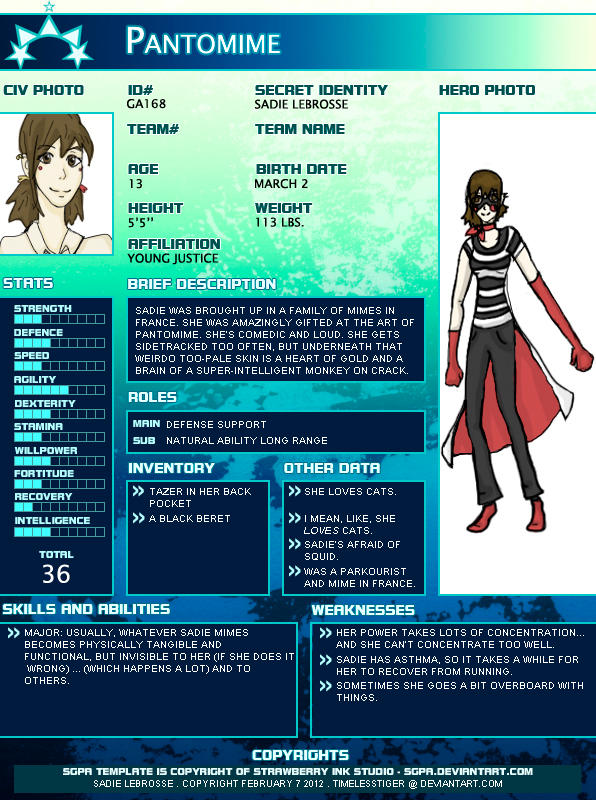 ((I can't get over how awkward her pose is... oh well. I'll fix it eventually. Laziness. Haha...))

So I've decided I love this group- the SGPA. I was searching the internet at school when I was... *coughsupposedtoberesarchingAthena* Anyway, I stumbled upon the SGPA wiki and I was like, "Hey, this is pretty freakin' cool, man." So I grabbed my Tech Ed buddy, ~thegracusgoddess, (Aka Kat) and she thought so too.
SO I WENT THROUGH SO MANY POWERS AND PEOPLE AND IDEAS AND STUFF YOU DON'T EVEN KNOW.
First she could manipulate paper.
Then she was dead.
Then she had a dinosaur companion.
And now she's a mime.
And I drew all of these and made their own sheets.
Separately.
My brain is... something else.
SO HERE'S A LONG AND DETAILED LIST-THING FOR YOU OKAY.
-------

BASIC STATS
Secret ID: Sadie LeBrosse
Superhero Alias: Pantomime
Group / Alliance Affiliation(s): Young Justice

Nickname(s): Panto, Mime, Pants, Lady Sadie, and Frenchie.
Age: 13
Gender: Female
Nationality: French
Current Residence: A tiny apartment in Gotham City, sometimes in the Cave.
Height: 5'5''
Weight: 113 Lbs
Eye Color: Brown
Hair Color: Brown
Hair Type: Crazy, wild, out of control.
Skin Color: Way too pale.
Physical Description: On the tall side, skinny-ish, with athletic legs & arms.

Personality
General Personality: She's outgoing and fun, and can never concentrate. Concentration is key to her power, so she's still mastering it. Sadie is strong-willed and loves to change things around. She's a klutz and runs into her mime walls. A comedic and hyper individual, Sadie's not the most calm and fidgets too much.

Good Traits: Funny, outgoing, friendly, up-beat.
Bad Traits: Rash, clumsy, squeamish, swears too much.
Quirks: Runs into things, talks too much, (irony...) and plays with her hair.

Hopes: To meet her brother and make the world a better place. She wants to reunite her family and finally get a decent haircut.
Fears: SQUID. Her brother being dead. Death. Ghosts and spirits, like in Paranormal Activity... (Why did they make her watch that...)

Memorable Quote(s):
What you can't see CAN hurt you.
CRAP, WHERE'D THAT BOX COME FROM.
Is that a cat? I freakin' love cats, hand it over.
Hasty retreat! *Hobbles away*

Relationships
Parents: June LeBrosse, Nathaniel LeBrosse.
Guardians: June LeBrosse, Nathaniel LeBrosse, and previously her brother, Jon LeBrosse.
Closest Friends: Wally West, Dick Grayson, M'gann M'orzz.

Enemies: Jerks and villians. She really doesn't hate anyone...

Girlfriend(s)/Boyfriend(s): None. Has a crush on Dick, though. Sadie's straight.

Battle
Power(s): Ability to make any object she mimes tangible

POWER/ABILITY
1: Master Mime
PROS: Can mime anything she knows the complete layout or engineering of
CONS: Must know the engineering of this object and she can't see the objects 80% of the time.

Weapon(s): A tazer
Style: Jabs people in the gut and turns it on.
Strengths: Small and powerful, stuns enemies.
Weaknesses: Has a certain amount of charged power and if it runs out it's dead until Sadie can get some batteries. Might accidentally shock her or her teammates, too...

Background:
Sadie LeBrosse came from a family of performers. Her father was a mime like herself, her mother a parkourist, her brother a juggler. They lived in a small house in Paris and were fairly poor, but their talents were amazing. Somehow, when her parents trained her to be a mime and later a parkourist, she had almost innate talents in the art of pantomime. She could make things tangible by miming them as long as she knew their engineering. Her parents were traveling performers, if you will. She was born in Paris, then they moved to Germany, then to Poland, then to Canada, and finally to Gotham, Rhode Island. Her family performed on the streets for a month before her brother suddenly disappeared. He left no note, no number, no hint or clue that he was going away. Jon was 19, so they didn't worry too much, but June and Nathaniel cried... and so did Sadie.
Soon after her brother's leaving, she went to the Hall of Justice to ask if she could get help in finding him. She was declined, but then she started to show off a bit. she mimed a table, then a chair and a pencil that wrote on visible paper. After a series of tests carried out by Batman, Sadie gave herself the name Pantomime and was shipped out to join Young Justice for her rookie training.

Nice! How did you do it, or get the template. (Even though im the worlds worst drawer)
Reply
i cant dooooo this idk y actually i no its because i am technologically impaired
Reply

THEN WE WILL TEACH YOU!
And you're actually doing really good with your tablet as is, but I'll do the template part for you because PHOTOSHOP ELEMENTS HAS A WICKED SOUL. XD
Reply

I'm want create a a team on SGPA. wanna come in?
Reply

Reply

I'm between The Girls or Tomboys, because Harpie and Saide are a bit macho... But The Girls is winning the fight
Reply

Hmmmm... I do like the Tomboys...
HMMMMM.
Reply

It's a tie Ladies and Gentlemen!
Reply

Reply

DECIDED!!
Even trough the other guys hadn't awsered me, i chose the Tomboys.
Reply

well, for now, PM, Harp and a plant girl called chlorius or something like that
her creator hasn't voted, but since i preferred Th Girls and you Tomboys, it's in her/his hands!
Reply

Oh yeah, I saw her profile.
AWESOME~! What's the number so I can add it in?
Reply
(2 Replies)

Ahhhh, she's so cute! I love the concept! Mimes.. Their style never gets enough looovee!
And Mmmmmnnn Irony! Delicious!
and hahaha I'm creepy but her and Aletheia conversing is so cuutte. XD
Reply

I know, right? Why are people afraid of mimes?
Mimes love you...
BUT THANK YOU! Your creepiness is much appreciated. XD
Reply

Maybe because they're like sad clowns.. xD But Idk, I think the major scare factor in clowns is their freakish grins!
EHEHEHEHHEHEHE... YOU'RE WELKS'!
Reply

Reply

JESUS TAKE THE WHEEL! O____O
Reply

Hahaha, I know...
My friends and I were on the internet and we came across the handsome kid.
Then things happened and we ended up sleeping in a corner with a hammer and drumsticks... orz...
Reply

AHAHAHAH. Your character creation thought process. XD <3 <3
AND THEN SHE WAS DEAD.

So how did she come across her powers? Do powers run in her family? 8D

Aletheia: Hi, I'm Aletheia! I'm not too, uh, useful in battle, but if you ever get sick or get hurt on a mission or anything I can probably help you out! : D
Reply

zHaha, thanks!
Her family kind of comes from a long line of circus freaks, all of which are really good at what they do. Her mom (June) was a parkourist, her dad (Nathaniel) was a mime, too. Somehow, they all have the power, though nobody knows where it came from. Whatever skill they preform out on the streets, they're really good at.

tl;dr Yeah, they run in the family, but nobody knows where they came from. C:

Pantomime: Hey! Yeah, that'll be really useful... I tend to... run into my own invisible walls. *cough* Haha, see you around! : D
Reply

;______; Oh my gosh I can't wait to see what pans out for Sadie and her search for her bro. Do you have something planned out or is it all up in the air? XD

Aletheia: Oh...oh my, that sounds. Dangerous. Also unpleasant. D: Do you ever conjure up stuff in your sleep?
Reply

I honestly have no idea what I'm going to do with them. XD BUT IT WILL BE EPIC.

Pantomime: Oh, all the time. Once, I filled my entire bed up with invisible wet noodles. And let me tell ya, that's not a pleasant thing to wake up to! 8D
Reply

Aletheia: Oh gosh, a whole bed of wet noodles? I'm...I'm so sorry. XD;;; Are you usually able to just dispel your pantomimes? Or did you have to deal with invisible wet noodles for a long time....pff.
Reply

Pantomime: I can only get rid of them if I'm awake and aware of when I made them. So the noodles stayed for an hour. After that, my miming skills wear off. : D
Reply

Aletheia: Ohhh I see, so you have a time limit on how long stuff stays! If you were awake and actively conjuring wet noodles, though, then you would be able to dispel them whenever you wanted, right? : D
Reply

Pantomime: Most of the time, that's what happens! It depends on how big or complicated it is, though. Like if I was miming up this huge-ass bazooka or a living thing or something, it would disappear in about ten minutes. It depends on how focused on it I am. :]
Reply

Gwen: hey heyhey !!! Welcome * does a bow and falls on face* oww... I ment to do that

Well..... I like' er
Reply

So cool! I had to pantomime in drama class!

DD: Welcome to the SGPA!
Reply

Ah, thanks! : D
We had to pantomime in social studies once... we had this weird sub. 'Nuff said. :]
Reply

Oh I love her and her power! And she's French!

Reply