Hope everyone's having a good 2012 so far. I've been on holiday in the states for the last couple of weeks, so haven't been on here much recently. Signed on yesterday to find about 10,000 new messages and it turns out my photo of Osaka castle in the snow got a Daily Deviation. Stoked!
Couldn't be happier about the photo that was chosen as it's one of my personal favourites.
If you haven't seen it before it's this one: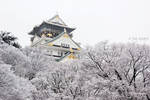 I'm now up to 200 watchers (thanks

), so I'll probably do another watchers feature soon.
Thanks to

for the suggestion and

for the feature. Please check out their galleries, some of which I have featured below.
Because I've just been promoted at work I'm way too busy to reply to every favourite personally unfortunately, but thank you and I do appreciate them.