This January is quite unusual for sure: even at Iso-Syöte, Finnish region that gets the most snow, was rained! But snow still was there, cheers! )))) This is a late sunrise over Finnish forest.
Other Finland photos: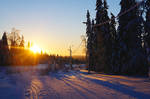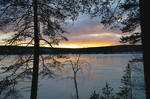 ----
Январь в этом году, конечно, суперстранный! Даже на финском курорте Исо-Сьёте шел дождь! Вот уж чего я там точно не ожидала ((( Но снег там все-таки был, ура! Ну а здесь вы видите поздний рассвет на финским лесом в один из ярких солнечных дней.
Image size
3568x2368px 4.49 MB
IMAGE DETAILS
Shutter Speed
1/100 second
Date Taken
Jan 5, 2020, 1:11:37 AM