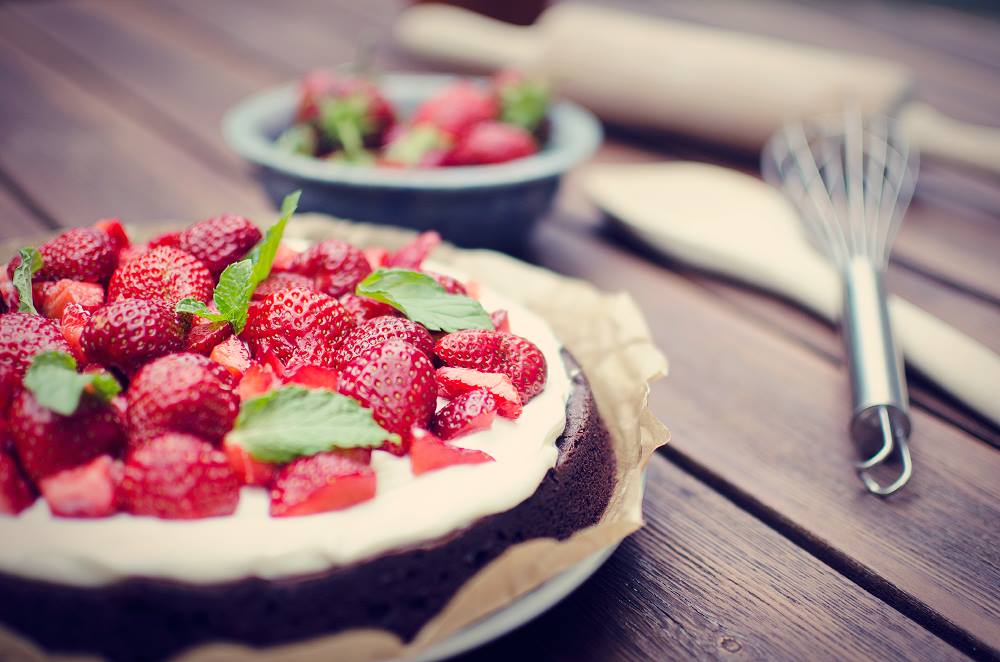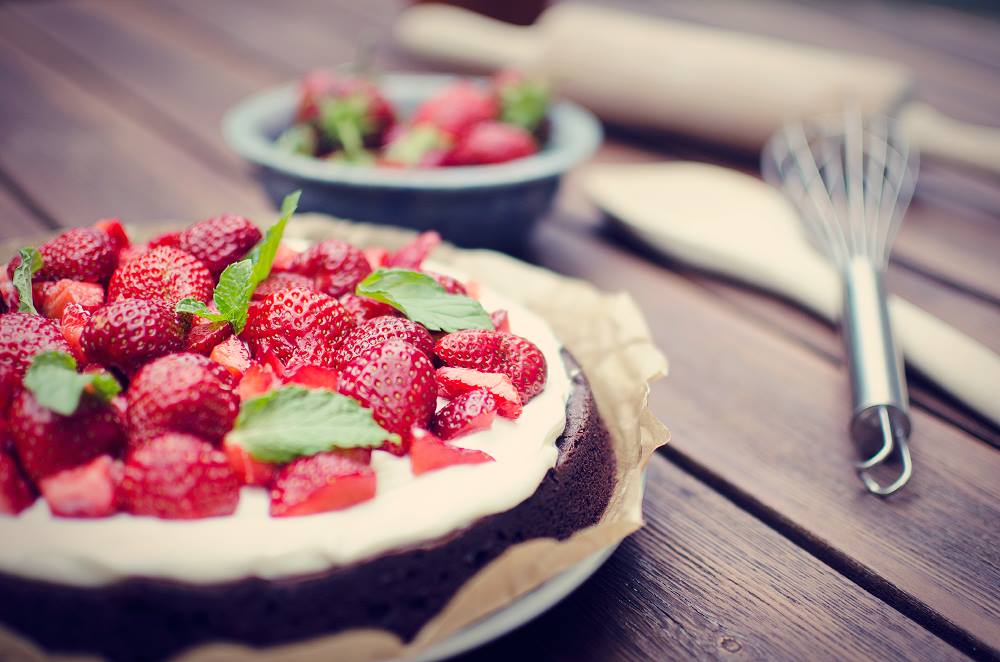 Watch
I'm trying to improve my (horrible) food-photography skills a bit. Actually, this is the first shot I'm halfway content with. I think making food look tasty on a picture is much harder than I ever thought. You need to keep so much in mind - which light, which background, which accessory - and also you a nice ground. For this
strawberry-brownie-cake with mascarpone and mint
I used a gardentable a neighbour gave to us when he moved. I love it - and it seems to be a perfect surrounding to take food-pictures ^.^
The recipe
Some of you asked, so here is the recipe in English, so you can cook this wonderful cake by yourself You need:


120 g flour
250 g sugar
85 g cocao
225 g butter (melt)

some salt

4 eggs

For the frosting


200 g mascarpone
200 g curd (20% fat)
1 vanillapod

3 spoons sugar

250 g strawberry
1 hand mint leaves


Preheat the oven to 160°C. Mix flour, sugar, cocoa and salt. Add butter and mix it with your mixer for a minute minimum. Add the eggs carefully and one after another. Mix this another minute. Prepare a baking tray with some parchment, give the dough on it and bake everything for about twelve minutes. It needs to cool down completely, otherwise the frosting will melt.

For the frosting you have to fold the mascarpone in the curd. Cut the vanillapod and with the back of your knife retrieve the vanilla pulp. Add this to curd and mascarpone as well as the sugar.

Spread the frosting all over the brownie cake. Wash and cut the strawberrys and put them on the frosting. Now add some mint and the cake is ready to be eaten
---
Edit 10. Juli: Oh my... a DD?

Wow, I don't know what to say. Never thought I would get one for a food photo. Thanks a lot!


______________________________________
This is not a stock-photo!
Please do not steal other people's artwork! If you want to use my pictures, please look here and follow some simple rules!
Daily Deviation
Given 2015-07-10
First of all: Your food photography isn't horrible at all, don't sell yourself short!
I really love how you draw the eye of the viewer with these few simple lines. I personally "read" pictures from right to left so for me it works wonderful. The gap in the table leads me to the egg whisk, over the wooden spoon to the bowl with strawberries and finally to the absolutely delicious-looking cake.
The composition of the picture also works quite well for me - the tools are lying pretty good (right now I wonder if it would look a little better, if they were not that clean. And the longer I think about it, the more they look just "placed" there - don't know if you get my point. But at first glance they worked well.)
I also love how you placed the small bowl with strawberries in the back - for me repeating elements are always nice to look at.
You have a few more repeating elements - the shades of brown (cake-table and wooden spoon-rolling pin-baking paper). This calms the scene down - and the bright red of the strawberries and the fresh green of the mint conjure a very nice contrast.
Another thing I really like are the textures. The table looks wonderful and so do the strawberries. Often edibles look artificial and not tasty at all but here you controlled the ligth wonderful so they look very tasty and natural.
For me there are only two "negative" points:
First, there is this big dark shadow behind the rolling pin. I can't quite figure out where it comes from so it's a bit distracting for me.
Second one is the tone. For me it's a little bit too much purple (but right now I'm not working at a calibrated screen so it just could look worse than it is). I would love to see it with a little more natural colours...
But overall I really like this picture! It makes me want to taste the cake

The Artist thought this was FAIR
10 out of 10 deviants thought this was fair.