RULES
☆ Post the rules
☆ Post 8 facts about your character

☆ Tag 8 other characters

☆ Post their names along with the creators avatar
Character chosen: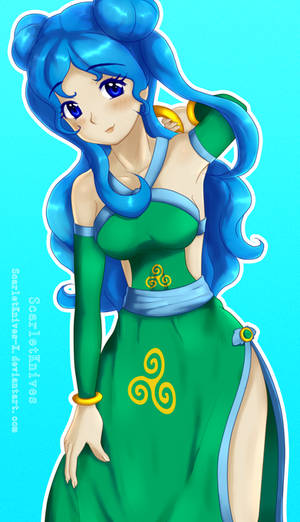 Serenna
1. She's a demigod like several other OCs of mine. Serenna's Major Mythic Blood is that of Ne Zha, the Third Lotus Prince.
2. She's somewhere on the autism spectrum.
3. Despite having adopted Ne Zha's fighting style, she avoids spears like the plague. That's why she has two huge rings as her in-hand weapons, as opposed to one ring and a spear.
4. She's a social eunuch, but a combat prodigy. She's very insecure about that first part.
5. She's one of my OCs that suffers the most. However she comes out of it depends largely on the protagonist.
6. She was separated from Alcine and another of my OCs for several years. It took some time for the three to recognize each other when their paths crossed again.
7. She gets along VERY well with Alcine. Alcine is kind of her ball and chain, actually!
8. Her primary element is Wind, her secondary element is Water. That's why the wheels she flies on have torrents of water running below them, instead of flames.
Not tagging anybody this time, since this was for a retag.