I am creating this journal as an explanation as to why I do not allow horses or wolves to be added to my premade backgrounds and do not allow my wings to be attatched to them without my prior permission.
Let me begin by saying that I have absolutely nothing against horses or wolves, both are beautiful, amazing animals, nor do I have anything against the amazing deviants that create horse and/or wolf art.
I really don't know exactly how to put this together...
To make my rules regarding this concern as simple as possible I have stated on each premade background and wing stock that I do not allow horse or wolf manipulations without prior permission, unfortunately, the statement is rarely read, if anyone has any suggestions as to how to make it more visable, please feel free to make them.
Why don't you allow your stock on horse and wolf sites?

I don't want the stock use requests that will come with my stock being there.
:bulleblue: Why? For some reason, my rules are rarely followed by those making the requests.



Why do I require permission or disallow completely?


Because I want to make sure that you intend to create an actual photomanipulation and not a horse or wolf on a premade and because I have seen my stock many times go stolen: aka unnotified and uncredited.


with regard to...


Premade Backgrounds

To begin: A horse dropped onto a premade background is not a photomanipulation; It is a cut/paste project.



It makes me so very sad to see this happening.



Please make an effort if you want to use premade backgrounds, use photo filters and refine your cuting skill and try new things.



It makes me especially sad to see pre-cut horses dropped onto premade backgrounds, and even more so when the colors of the two images don't match at all.



Also, particularly a horse on a beach has no originality; but at least think about putting a shadow on the image.



If you truly want to use one of my premade backgrounds and I've declined permission, you're more than welcome to re-create the background using the same stocks that I used.


Wings

The same applies for my wings, I very much dislike seeing them carelessly dropped on a horse or wolf without any apparent effort to make them appear that they belong there.

To aid in expressing the type of image that I don't want to see, I've created this one...


(The above image is created with one of my own premade backgrounds, my own horse image, and my own wings)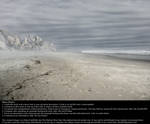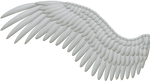 :thumb224476126:
Keep in mind, this is an example of what not to do.
I want to state that it took me approximately nine minutes to create this image in just a few steps, which included cutting out the horse.


Lets critique it!


1. The horse is well cut, not great, but okay, it took a whole 7 minutes.
2. The horse, though white, doesn't really match the same levels as the background.
3. The horse isn't casting a shadow.
4. There is sand over the hooves in an attempt to put the animal in the sand.
5. The wings look dropped on.
6. The horse looks dropped on.
7. He looks like he's eating sand.


How could I improve it?


1. I could photo filter the horse with a blue/gray filter.
2. I could adjust the levels for the horse.
3. I could blur out a small section of the bottom of the hooves to make it better fit on the sand.
4. I could add a shadow for the horse and wings in total.
5. I could apply an over-color layer for an overall color cohesiveness effect.
6. I could add a little grass to make it look like he's not eating sand.
7. I could draw some extra mane and tail hair.
8. I could adjust the size, size, color, and perspective of the wings and use the clone brush where they attatch.


My advice...

Try new things, go out of your way to try things like color photo filters, the different types of eraser tools, different brushes, add additional elements if using premade backgrounds, and practice, practice, practice.



And if you have any questions or want any personal advice concerning photoshop techniques, please feel free to ask me, but I don't know a darn thing about gimp.


Why don't you allow your stock on horse and wolf sites?

Because once it shows up there along with the link that I require on the image I tend to get one of two things happening...
a. A lot of requests to use a particular stock for cut/paste projects.
b. A lot of usage wherein my permission isn't requested.
c. Unauthorized usage/theft.


How do I decide to give or decline permission to use a premade or wing stock?

I will visit your gallery and look at your recent and past manipulations to base my decision on quality, don't assume I will grant permision only because you asked.



If you have manipulations that really look to me like effort has been put into them...


If your manipulations look like cohesive images...
...Then I will be glad to give permission.



If you have manipulations that look like a horse has been dropped onto a background...
ex. bright brown & white horse on a bright blue background...


If your manipulations are badly cut out...


If it appears to me that little effort has been given to the images...
...Then I will have to decline your request.



I have no bias against anyone, I don't intend to offend anyone when I decline a request.


Asking for deviations to be removed

If you don't ask first to use my premade or wing stock for a horse or wolf manip I will ask that you remove it.



If you don't wait on me to give my permission prior to uploading a horse or wolf image containing my premade or wing stock, I will ask that you remove it.



If you don't tell me that you've used my premade or wing stock on a horse or wolf, most likely, I will find out.
I recognize my own stock easily, so think carefully about failing to notify me and thinking you'll get away with using my image without permission.

Hint: If you don't ask or notify and I find out, I won't care if the image is good or bad quality.



If I have asked you to remove your deviation because you failed to request my permission, I feel no sympathy for you, it is through no fault of mine that you failed to read a basic rule that is in bold type beneath the deviation. Neither anger nor empathy for your hours of work will move me.


I know this isn't the most eloquently put, but please bear with me.