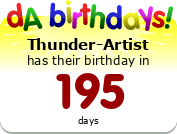 What's up everypony? Name's Thunder Artist. I'm an MLP artist and I make art to make my friends and others happy. Don't be shy to talk to me, I'll ask any question you have... except for anything that offends me of course! Heh!



I've been a brony since early 2013 and I'm proud of it. If ya have a problem with me being a brony then deal with it cause being part of the My Little Pony community is awesome as the sound of thunder and that's what I like.


The work I post here is mostly My Little Pony Friendship is Magic but sometimes I like to mix things up with video game art and such which is cool.



I do accept requests though I can only do a few at a time because of the advanced art skills I have and because of that, it takes time for me to work on pics. Overtime, I will still be planning on how I can make requests work better so I can post more pics for all of ya on here! Also, they are all free and don't cost any points! Just try not to request a bit too much otherwise it'll get very difficult for me to organize everything all at once! Heh! Again, I'm still sorting this out so at a later time, I can accept much more higher amounts of requests from all of you.