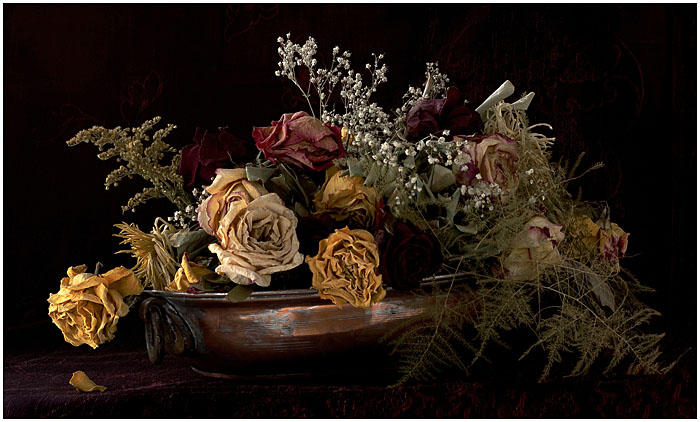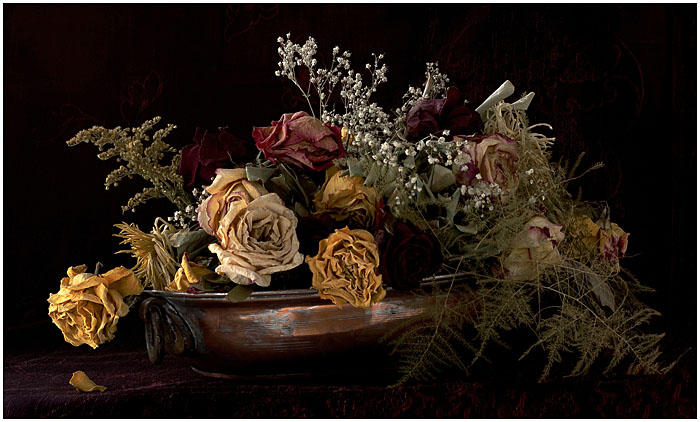 Watch
My fourth HDR. I combined seven exposures.
These flowers have been dead for three months yet are still beautiful in there own way.

You Soooooooooooo many beautiful flower shots. I love this. The lighting is gorgeous. Especially on the yellow ones. They have such a golden hue. That one hanging over on the left just glows! Then that little pettle just below it adds that special touch.
I want to learn HDR. VERY nice work.

Reply

Reply

Hi Heather.
HDR" (High Dynamic Range) is where you put your camera on a tripod and do several exposures of a subject going from over exposed to underexposed. Then in a program like PhotoShop, you merge them all together. It gives you a loooong range of tones.
Hope this helps.
Reply

beautiful the colors realy make the enviroment so mist and amzing

Reply

Almost feel that if they were touched, loved, they would return! As if they're not dead at all but dormant! Waiting....
Beauty isn't always where we expect it to be!
But you already know that!
Wonderful image Thom!


Reply

Oh, I will learn HDR someday. This is one of the most subtle, and beautiful, examples of it I have seen so far. Beautifully done.
Reply

I need the software, from what I understand of it. Do you use Photomatix?
Reply

I absolutely agree with you. I take pictures like that too

Reply

Yes I know it's alright to disagree. Constructive critique is good. I disagree about the growing part though. Somebody who disagrees with me doesn't make me grow. Life teaches us and you learn yourself. It's a well known truth that humans don't learn from the mistakes of others but from the mistakes they make.

Reply