ABOUT ME:
Hello and welcome to my page

. I'm Stephen that is my real name and I use the name ThexW-I-T-C-HxMaster as my profile name I'm a big W.I.T.C.H. fan my page and most of my groups are mainly for that W.I.T.C.H. is a comic series which started in 2001, and ended in 2012... sadly it was not as good as the Animated Series which started in 2004 and ended in 2006. I was not a fan of W.I.T.C.H. until a few years after the animated series ended, but I did start to get into it while it was airing re-runs in 2008 as I recall it. I was randomly going through the T.V. chennals of my home late one day and I found this interesting looking show on called W.I.T.C.H. the episode I remember seeing that night was called 'C is for Changes' the third episode in the animated serieses second season. By now it was only seen late at night 2/3 in the morning my time. I remember thinking was a wonderful show this must be and I'm not one to be into that type of stuff I would only watch an animated show only later when two children were old enough to watch them about a year later. But this was the most interesting show I've ever seen to that point and I did all I could to see more of it. Later on I found out what happened to the animated series and that it was based off of a comic series of it's own Disney was using a company called SIP Animation to do the wonderful work of producting the animated series, but sometime after that they stopped showing the re-runs and I never saw it on live T.V. after that I did the next best thing and decided to see it I could get in on my Hard Drives to show my family since yes they was indeed old enough in 2010 to watch it and actually remember what they were seeing so I added it to my families Hard Drive with all my other important family photos and video's for over the years (which I later had to replace...

). That is about the time I created this profile in 2010 earlier in it's time I was never a big fan of DA like I am today. But I was later to use this profile in 2012 as a big part of my roll... but that's a bit a hand of my story here

it was around this time that I started to do something in 2011 that has also been a big hobby of mine and that is hypno the idea to use it with W.I.T.C.H. would not come for another few months, but I was a fan of hypno starting around 2005 when I got into anime a bit with some of their interesting shows some of the best hypno since I remember are in anime. But yes that is a bit off the subject

. I first came up with the idea of using W.I.T.C.H. with hypno when I saw for the first time 'G is for Garbage' NOW believe it or not this episode had escaped me for long period of time and when I ran a cross it I was blown away by the level of hypno that was in it, with SOME miner drew backs to the episode that I personally didn't like or some parts I wish they had of done more with, but this is really where I started to get into W.I.T.C.H. and hypno to the level I am today. W.I.T.C.H. had showed me something I had been looking for for years the prefect hypno device... when it came to hypno in anime all one had to do was hit the person over the head or splash some water over the victim and they would be 'back to normal' like nothing happened to them at all... or the person could just wake up on their own... which defeated the whole point of using hypno on them in the first place

. W.I.T.C.H. was a bit different with some themes like that, but it was the best at using hypno that I've ever seen. 'G is for Garbage' was proof of that. About that time I started to reuse this profile with some more active stuff and mainly to see if their was some new interesting hypno images on the internet that I hadn't seen before and see if they were from some good anime shows I could look up, AT this period it was late 2011 when I starting being active on DA

. The theme of W.I.T.C.H. and hypno was a good idea but I didn't know how I could use it yet. I was mainly still into W.I.T.C.H. and about this time I first finished watching W.I.T.C.H. the whole series that is when I saw 'Walk this Way' episode 18 of season 1. It showed me an interesting device that was used in 'G is for Garbage' and this is when I really thought about using the Horn of Hypnos the special item that turned anyone how hears it's sound into 'Trance Marchers' a mindless creature that must only obey the person who blows the horn at them no matter what... the perfect hypno device in my opinion the very thing I had wanted to see used but no one ever tried BUT W.I.T.C.H. no one under the spell could break it themselves they were/are perfect servants to the horn. Right up my ailly! Now this is about the time I came up with my storyline idea since W.I.T.C.H. got alot of the things right that I wanted to see in hypno. W.I.T.C.H. is full of this if you know what to look for, but not as much as I wanted so this was the start of my idea to do hypno storylines of W.I.T.C.H. the perfect touch from me and I finally found the thing I wanted to use my page for it would help me tell others about W.I.T.C.H. and do my part to keep it alive and at the same time I could meet other W.I.T.C.H. fans and be active on DA... soon after this I would have MY FIRST EVER HYPNO CONTEST ON DA AND EVERYTHING AFTER THAT IS HISTORY

.
I'm not a women you know

. But I did do this quiz...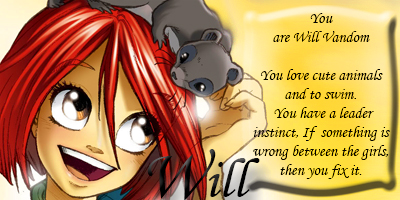 Which W.i.t.c.h. Girl are you?
Hosted By theOtaku.com:
Anime









The Friends List:













.
Donators I trust and give points to:





.
Artists I have commissioned:










Favourite Movies
Patton (1970)
Favourite TV Shows
W.I.T.C.H.
Favourite Bands / Musical Artists
The Rolling Stones
Favourite Games
Fable: The Lost Chapters, Fable II, and Fable III, Left for Dead, Left for Dead 2, Red Dead Redemption, and WWE '12, WWE '13.
Favourite Gaming Platform
Xbox One X, PS4 Pro, PC
Other Interests
Hypno in Anime, W.I.T.C.H.E. mind control