Description
My Tumblr: TheWinterBunny

Its been too long since I did some doodles of my boy.

He's a Stallion (obviously!) His father was a cross between a Clydesdale and a D
raught
Horse and his mom was the lovely Shire. So, he's a big boy!

Just wanted to do a quick doodle-dump of him with different main styles

He's got long glorious locks and when he's on the job he's gotta try to keep it out of his face somehow, right? lol!

Personality wise, He's not very talkative, but he's quietly persistent. A gentle giant but by gawd do not piss him off, they nickname him "Bucky" for a reason because he's got a mean back kick!

See more of Hank Buckland below!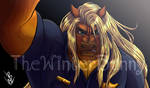 PLEASE DO NOT USE OR STEAL THIS ARTWORK WITHOUT PERMISSION.
Zootopia OC bab, © Me

Image details
Image size
1978x2489px 2.19 MB