Mika | Genderfluid | They | Asexual- romantic.. what that?
We are a system, we work together to make the one you love!
Feel free to ask us any questions!
We will be telling only our friends our personal discord!
We love to make new friends all the time.
Do not hesitate to start a conversation okay? We love to speak.
Youtube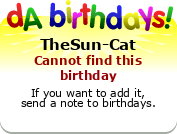 code by cameko-code icon by pinkbunnii