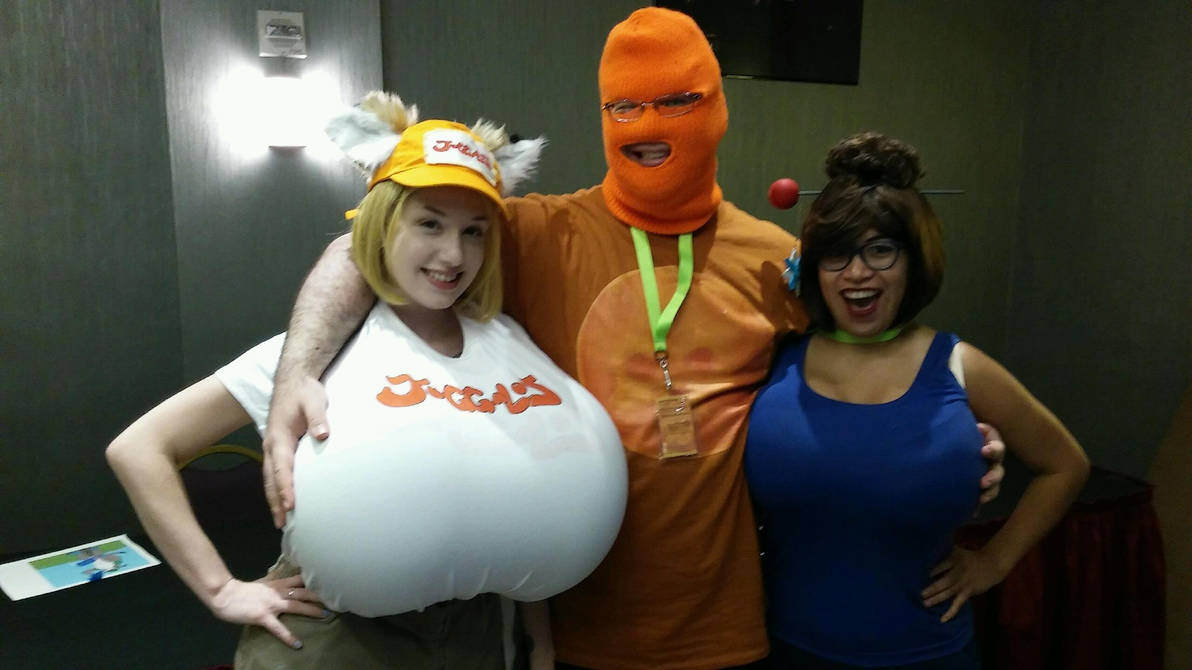 So, bit late to the party, but I had too much of a good time to not comment!

SizeCon 2017

was fantastic! This was my first year, and I was shy and nervous about going- hence me wearing an orange ski mask the whole con- but it was a wonderful time, and I'm excited to tell you all about it!
The People
-
It was really amazing to be able to meet so many great fans and creators at the con, to just be able to have a conversation with them without needing the benefit of internet connections or phone cameras. People like

and their lovely wife,

,

, and the rest of the Interweb Comics group were just a treat to get to hang around with. Everyone was very friendly and open, but there was still some awkwardness even amongst such like-minded individuals. I must have heard the phrase "I can't believe I'm saying this out loud..." at least a half-dozen times.
The Panels
-
For only having a day and a half, Sizecon was chock full of interesting content! The "Women's Panel" was full of amazing and sobering stories about being a female aficionado in the size/expansion community. Of special note is

's tale- That's her in the busty Mei cosplay up there- of finding love and support that was simultaneously heart-rending and -warming. The "Furry and Size" panel had great representation, including

and a guy in a full fursuit. Relationships with size fetishists, Size in Pop Culture, Vore, and even the writing panel I was a part of, they all were just great.
Special thanks goes out to

, who did a fantastic job of moderating most of the panels on both days. Really great work, Gomai!
The Show Floor
-
As far as second-year conventions go, it really was not a bad crowd. There were writers, artists, videographers, knick-knacks for sale, and other fun stuff. Shoutout to

's pixie cosplay, along with Chibiana's aforementioned "Busty Mei" cosplay. The model in the Juggalos outfit is Tara Tied, hired by

, who had an awesome booth with a bunch of his props set up for demonstrtion, inflating and deflating his prosthetic boobs ,butts, and even a berrygirl sphere! It was really cool just to look through all the art and prints on display- and I had a nice collection of art from

for sale myself, thanks to everyone who bought one!
The Conclusion
-
Sizecon was amazing. Massive thanks (tee hee) to the organizers and all the volunteers, the prop-builders and photographers, and everyone who made SizeCon such a rousing success. Anyone who was on the fence about going, it's absolutely worth it, and if you were worried about privacy, I wore that ski mask the entire con without any trouble from anyone at the con, they were all super understanding.
Support

today!
Update:
just a reminder that I'm open and looking for new commissioners! If you're a writer who wants to take their work to the next level, or just want a great story made, look no further than your pal Soy!