Profile Picture made by
but the art is in

Go check her out! THAT IS AN ORDER!

Please check her out will ya?

The "Real" Soldier in Vietnam info:
MAGGOTS! TEEEEEEN HUT!


ten hut!
I WANT YOU!

TO JOIN MY MAGGOT ARMY!

Brain maggot told me to!

Some people of The Maggot Minion:
















and more.
Against the Gear Monkey Army lead by

If your ass get kicked by Jane Doe (The Soldier) or some other good players, then you can come to me. I train shitty maggots like you and turn them into a even better shitty maggots so they can fight for themself or at least not get their ass get kick out by their grandma again!
I have personally killed over 1 ant...ah i mean 1 FREAKING ARMY using my terrible grammar for cursing and my trigger happy fingers to tickle the hell out of them for information. Talking with 2 real merican comrades and stuffed over five thousand words of English into my tiny bitty little mini brain of solid Bridesmaid.

If you don't understand what i'm talking about then guess what? You are an idiot and you hate my country and ME!

— The Soldier on real fear about his Grammar and the fact that he suck. —
General Bob's secret greatest biggest plan:
First: Make sum friends
Hello Maggot!



What sup Faggot?
Second: Find a Rainbow Sheep (to make Scout cry)


ARGHHH STAP!!!


Baaaaa...
And Final: Bring them to the (suicidal mission) battlefield and i will lead the charge.





This way Comrades!
List of other nonsense-useless-stupid objectives:
(This list exist because Bob always forget his shit and never finish the bullshit that he made)

1. Keep making bad stories out of imagination, yes i know it's bad but i must show the world how bad it is.
2. Train Vietnamese Soldiers in..... MvM mode... (But the gamemode is dead and i'm now no longer have a job

i'm so broke right now

3. Building a Maggot Meme Machine.
4. Betray (It's a part of the plan maggot!)
5. Get fuck then make a suprise comeback for combat.
6. Distract the enemy with this list. Brilliant plan!
7. Do the Project "W.A.R" for the Metal Masher
8. Do the Project "W.O.R.M" for the "Ape Vs Maggot"
9. Unknown
10. Profits? Credits? Benefits?
TO THE INTERNET! MY COMRADES!!!
Blu are for da loser! Valve said that!

:thumb525949205:


:thumb354846125:











:thumb101667112:


:thumb101003524::thumb101002486:




:thumb174590741:
Vietnam and other Country:



To ALL the Pyro main out there!
:thumb101565587:
And why you ask?

KILLING PEOPLE IS SO EASY!!!!

ARGHHHHH HAHHAHAHAHA!!!!!

BURN!!!!!!

PREPARE TO DIE!

BITCH!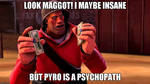 Just kidding all of you will always welcome in my Page!



Make Friend with me!


Now....!~