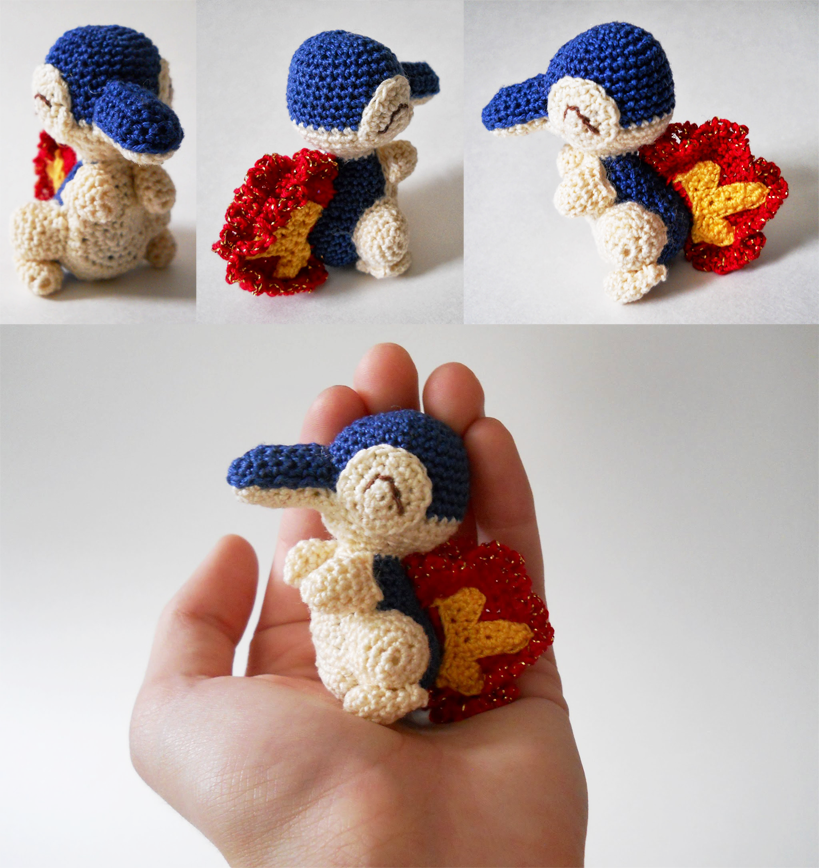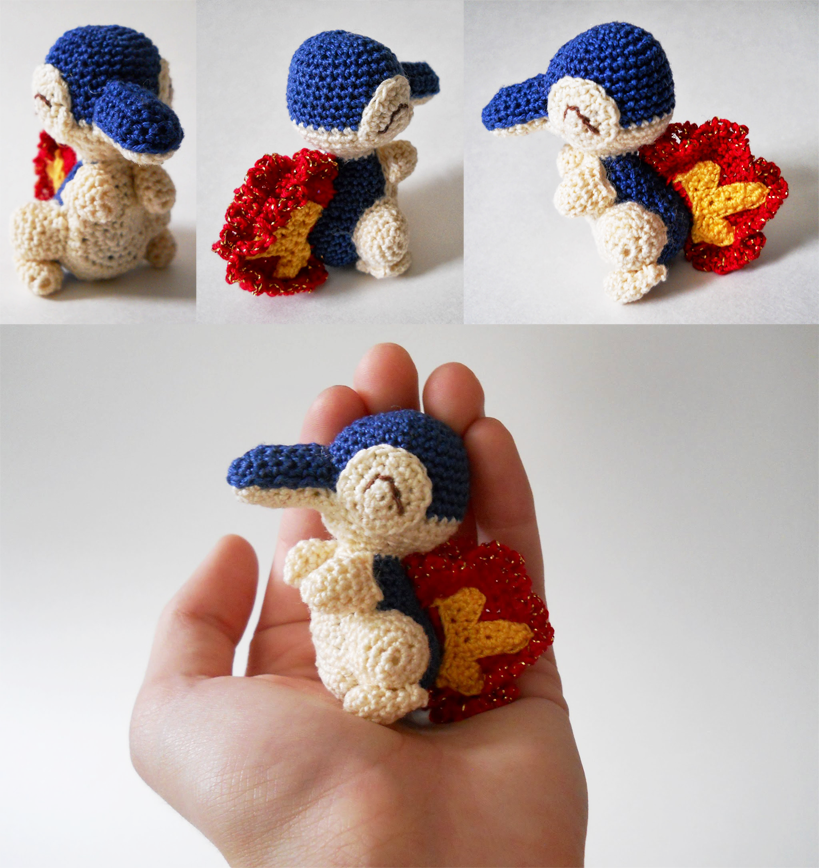 Watch

This little guy was fun to make
A challenge, too. Because, not to be rude, but his head is shaped funny!
Cute as he is, the project was a tough one. A couple months ago, I probably would
have apologetically turned the commissioner down, saying I couldn't make a Cyndaquil,
that it was just a shape that I couldn't pull off with my skill. It's really awesome to come
out of this project being able to do it, and knowing that it's proof that I've improved
as an amigurumi-ist (amigurumist?). So uh, yeah, here he is!

The fire has sparkles
in the edge of the red, like Moltres did. The yellow part of the fire is made using the same
technique that I made up to make Zapdos spikey. And the red edge of the fire was made
with a similar idea as Articuno's feathers. Told ya I learned a lot from those three!

What else can I say about this guy... his nose was the toughest part, because honestly
changing colors within a piece is a pain enough in itself, especially in something as thin as
that. It's thinner than my pinky, which I decided was too small for color switching. So I made
the blue piece separately and stitched it on top/around the cream colored part, and that 2
piece tube is sewn onto the round head. And the cream color around the eyes are their own
circle as well. So the face alone is 5 pieces, a lot more than the 1 that it usually takes! The fire
is made with 3 pieces, and Oh- the cream color of Cyndaquil's belly/torso part, that's a separate
piece too. Made it the same way that I made Butterfree's wings. So the body, arms and legs
included,is 8 pieces. And it was a fun puzzle to figure out how to make the pieces and put
them all together! Thanks to the fire on his back, Cyndaquil can stand all on his own (though
it sometimes takes a bit of fidgeting) and hopefully his perky eyes bring a smile to the commissioner
and you, the viewer, today.

Thanks for viewing!

where, how, and when can i buy!?
Reply

Reply

These are so tiny!! I'm very impressed.
Reply

He looks adorable and I kinda agree, his head is a funny shape. lol. You did an amazing job, though
Reply

Thank you!

the shape reminds me of a squash, I think.
Reply

You're welcome.

Yes, like a squash! It just looks like a shape that would be a pain to sew or try to make from anything... except maybe an actually squash. lol.
Reply

OHMYGODLKSDFIE I want him he's so cute!!! <3
Reply


Hehe glad you like him! :3 Little guy's on his way home now though~
Reply

Reply