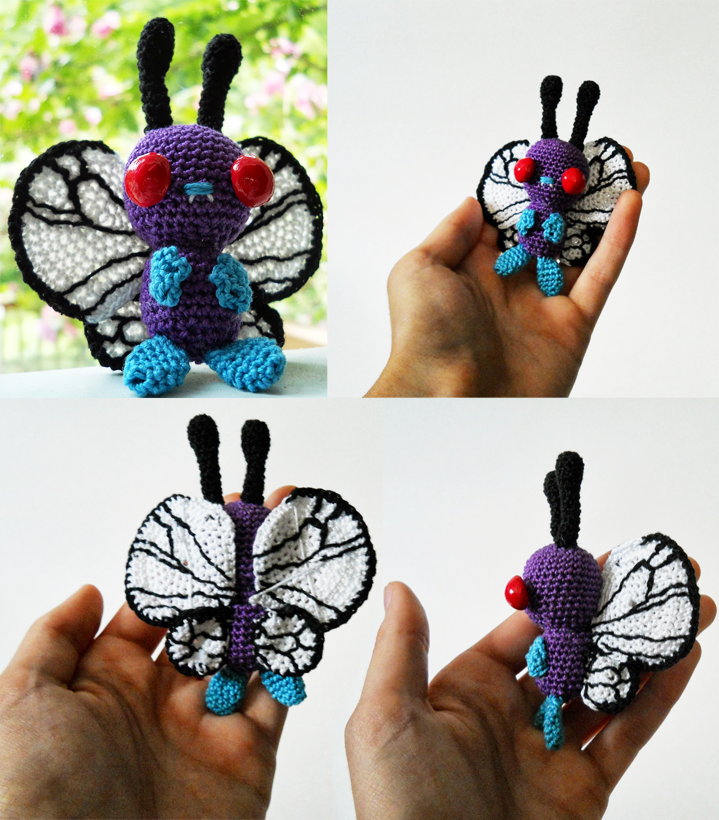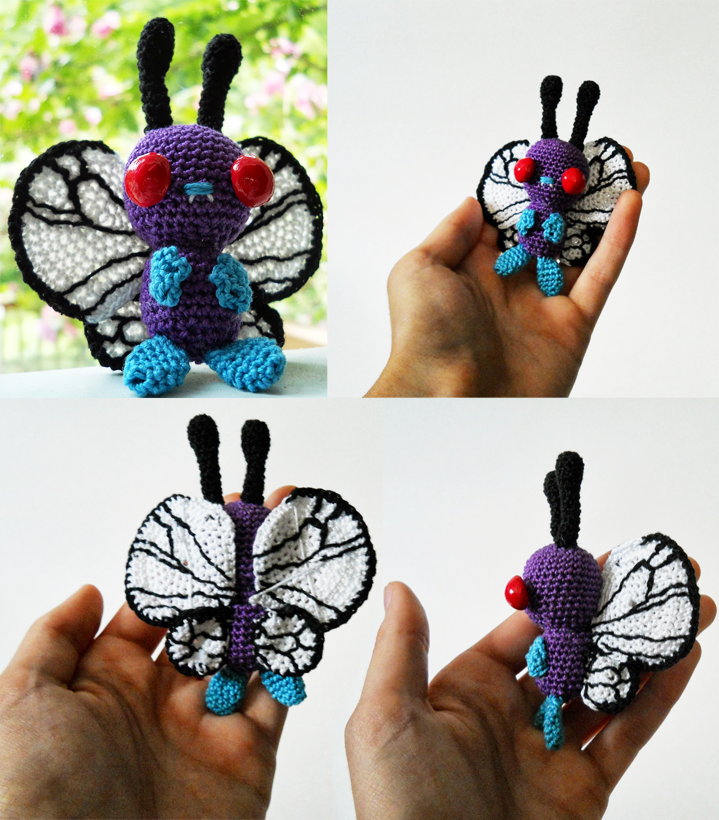 Watch
Yeah!

This is one of my favorites I've made to date- This doll, and the next part of the same commission-are
really pushing what I can do as a amigurumi-ist (amigurumist?) and I love it! There were 2 especially big
challenges with this doll- The eyes and the wings. The eyes, first- They're half hand-made!

This is the
first time that I've custom-made eyes for a doll, and I'm really glad I gave it a shot this time. Who wants
a butterfree with black eyes, or teeny red ones with pupils! Neither would have worked. Maybe the red
ones, but the doll would have had to be half the size. So, here's how I made the eyes:
Take red safety eyes that I have to many of,
Cover eye part with Sculpey
Sculpt into oval butterfree eye shape
Repeat with second eye
Obsessively change both until they're as near identical as possible
Bake, partially melting the back of the eyes (whoops...)
This made the eyes too big to push into a crochet head (I tested on a self work project)
Paint a few layers with acrylics and a few layers with gloss- allow to dry
While crocheting head, crochet them into the head, MAKE SURE THEY DON'T FALL OUT
Reach a good number of rows below the eyes but before decreasing, thanking the universe that the eyes were placed correctly
Hot glue them into the head, because the backings of the eyes no longer fit
Do not let the hot glue stringy things get on the outside of the head!!! /stress
Finish head, be happy.
*(Half hand-made because if the plastic eye in the middle d: )
and it was a great experience to try

Hopefully I'll have an excuse to custom make eyes for another
project in the future.

The wings,too, geez. First of all, they're big. Second, they're funny shaped (not perfectly circular). And third,
I sort of didn't write down any notes of my pattern while making the shape of the first wing, so I'm surprised
they came out so similarly.

And of course, fourth, dat embroidery. All of the lines inside of the wings
(not the black edges, those are crocheted) are embroidered, and it had to look good on both the front and the
back, since they're 1 layer. I admit they're not perfectly symmetrical, but the stitches can only be undone and
re-embroidered so many times before a poor girl goes mad, you know? d:
So uh, big thanks to the commissioner, and people who view, and people who read this whole comment! xD
Will be seeing you again soon, I have some big submissions lined up.

Slight quick edit to brighten the image with greenery in the background c: