As a Boy I always love to draw and as I grew over time my drawings became more and more improved with each picture that I drew
I am currently joining:

- Audition complete- doing a little story that's just for fun but not really mandatory :3
UPDATE: Not Accepted
Joining

Update: Reconsidered
I have now opened my own Patreon account, for those who have Patreon or for those who don't come feel free to check me out and leave a tip to help me keep on drawing

I like to mostly draw stuff in regards to video games but also like to draw comics and other drawings that have original content such as my Destination Imagination series. My style of drawing has abit of a western cartoon vibe to it with a little anime mixed in and its been improving the more i draw.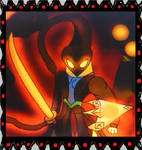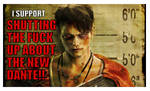 <iframe src="
www.strawpoll.me/embed_1/10270…
" style="width:600px;height:390px;border:0;">Loading poll...</iframe>
Favourite Bands / Musical Artists
Linkin Park, Wierd Al Yankovich, Disturbed
Favourite Games
mostly Assassins creed and sonic and batman games. basically Action and adventure games
Favourite Gaming Platform
Playstation and sometimes Nintendo brand
Other Interests
drawing pictures and playing video games