I was theashirou.deviantart.com/ before but then I couldn't reactivate it anymore. So whatever drawings that I had from my old account, it's still valid for me to post. NO STEALING OF ARTWORKS.
Support Me on Ko-fi
I love Pokemon, Inazuma Elven, KHR, Digimon, and Harvest Moon, etc.







































:thumb84402955:




















:thumb354040971:


:thumb512665122:













































:thumb311582885:


:thumb187395810:




:thumb311583331: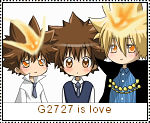 :thumb270755122:
Favourite Movies
Pokemon and Inazuma Eleven
Favourite TV Shows
Pokemon, Inazuma Eleven, KHR, Naruto, One Piece, Toriko, Dragon Ball series
Favourite Bands / Musical Artists
ATEEZ, BTS, The Boyz, Stray Kids, Twice, Blackpink, TFBoys, LMC, Plus +, etc.
Favourite Books
Supernatural Books
Favourite Games
Pokemon, Harvest Moon series, Digimon, Youkai Watch, Rune Factory 4
Favourite Gaming Platform
3DS
Tools of the Trade
MediBang Paint Pro, Procreate, Photoshop, and Clip Studio Paint