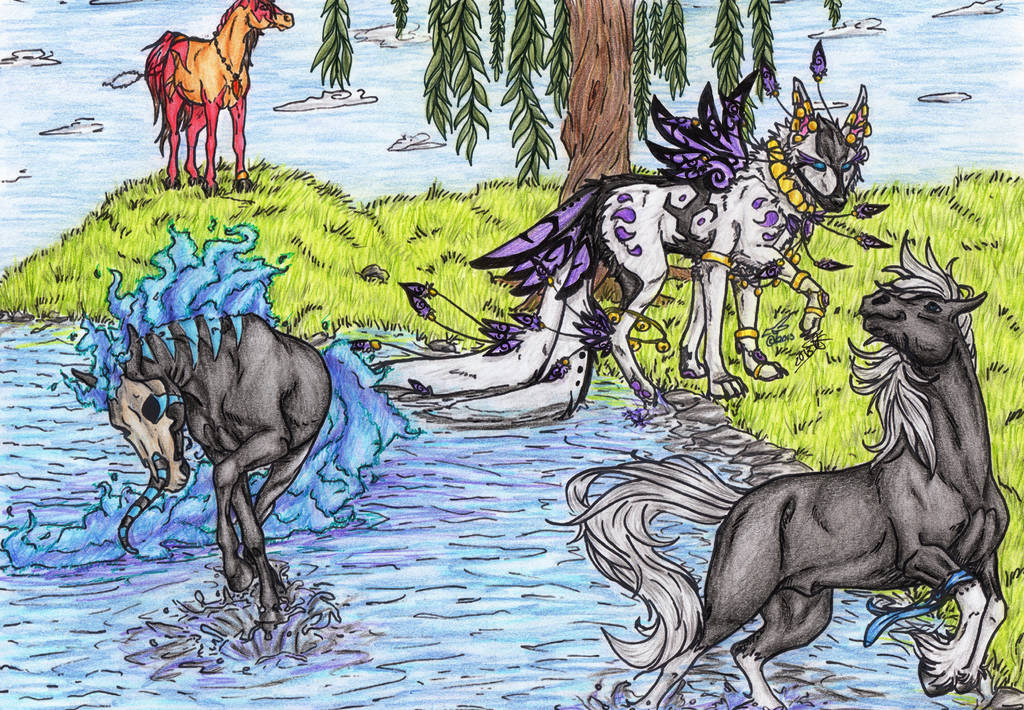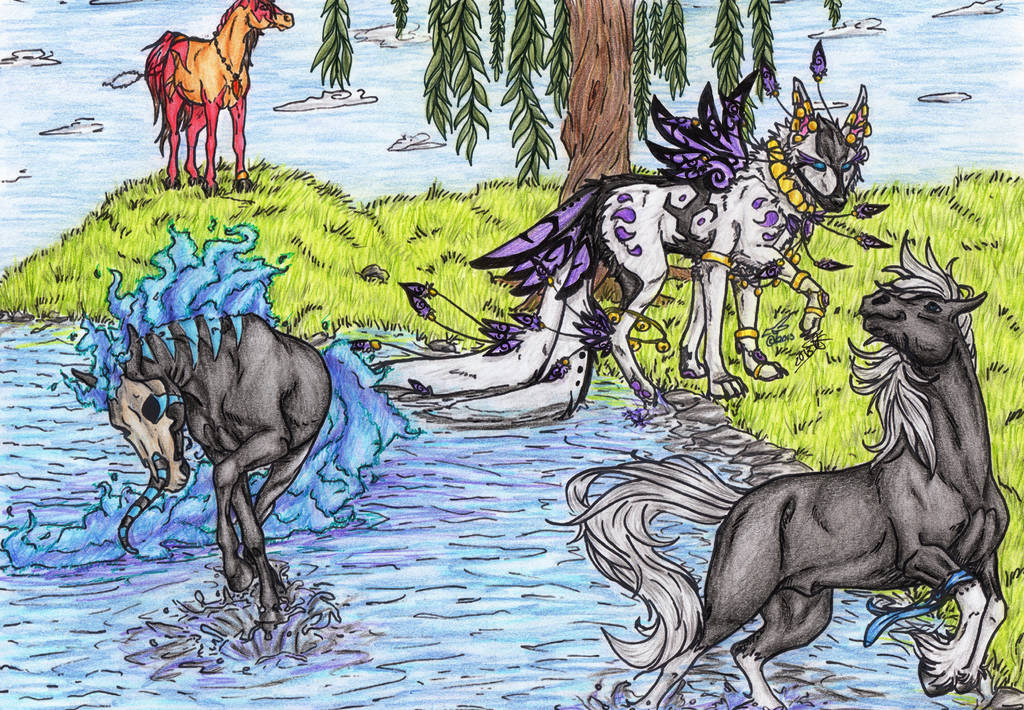 Watch
Collaboration with

Lines:
[link]
I'm really pleased I was allowed to color these wonderful and creative lines.
Actually it was quite a surprise that they were finished so fast and I didn't want to take too long with coloring so I set myself the target to finish it before the holidays would end. So, here we are.
On the picture you can see two of her and two of mine characters.
There we have Zosime (who's flame-hair made me desperate) on the left foreground playing in the water with my Inverno (on the right). The canine in the background is called Dai's and was pretty hard to color, but I love her design so I did my best ~ And finally at the very back you can see Zeravan, who is of course watching the area. (He's always doing that...)
Colouring didn't take as long as I spected it to be, but I enjoyes it very much. I know that it doesn't look realistic and a bit too bright for a natural atmosphere but the horses/canine aren't that narural looking too, so I thought i should create a more fantasy background than normal. I tried to do some touch-ups with photoshop and they didn't look that bad, but I prefer the traditional colored version here... it looks... better...
Please excuse my horrible water-skills.
@~
Wishing0nTheStars
Thanks so much for letting me color these beautiful lines ~
It was some work but I really enjoyed it.
Your characters are very interesting and it was a new challenge for me.
And seriously, you have some talent.
I'll put the watermark on as soon as you downloaded it)
I hope you like it

Zosime, Dia & lines © ~Wishing0nTheStars
Inverno, Zeravan © coloration © me ~TheShiranja
Please don't steel my artwork!

woah die farben sind echt toll hier...sie sind so kräftig und saftig und
eye porn

nein aber wirklich, das bild ist wirklich geil! auch die lines und posen und die charas aaaah so great.

Reply

OMG!!I wish I could color like this with colored pencil!!!!!! You did such an amazing job, Thank you so much for the collaboration!!

It has been some time since I drew horses so I was happy to do so again.

only thing I noticed was that on Dais her long feather by her tail in the water is also supposed to be purple and underneath her chest area is black and then a line follows to her neck/top area and that is also black. Here is wat I mean-> [link]
Reply