This deviation is outdated.

Version 2 can be found here:
--

If you wish to support me, here's my Patreon link:
www.patreon.com/djthed
Paypal Alternative:
goo.gl/YTgduc
--
As promised, here's another render showing off the wings a bit more. Just keep in mind that for the functionality to work, I needed to increase the density of the feathers quite drastically compared to the show-style wings. The wings I have here are able to fold up and spread without model swaps, which I felt was the most important things to get working when figuring out wings. But in terms of their cosmetic look, I'd certainly like to hear some more feedback.
The wings are the same model I used in the last render, but I also changed a few things with the materials for the model as a whole. The most prominent change is the change to the hair materials, which should actually shade more like hair compared to before (the Specular highlight is no longer just plain white):
Before: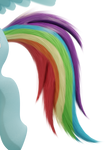 After: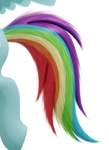 --
Special thanks to my patrons:
Katharine Berry
R&DFunder539
Bastler
CyberPon3
Flopzee
MCtoastie
JetWave
StableCoder
The Smiling Pony
TheGreatSako