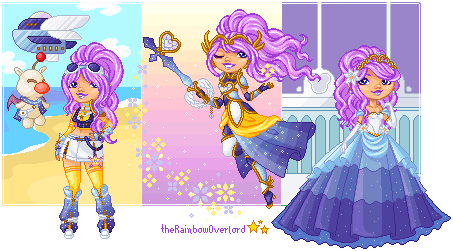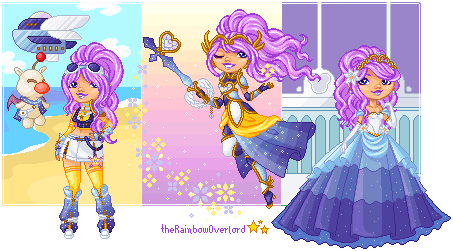 Kingdom Hearts Royale 2017Welcome to the second Kingdom Hearts Royale Pageant!
The dolling pageant dedicated to Kingdom Hearts original fan characters!
It's been three years since I last held it so I hope this was worth the wait. As with the previous pageant there are no real judging rounds just a requirement of three dolls that fit each of the three categories mentioned below. You have month to get them posted so if you are worried about not making the deadline you might consider a smaller base as long as it meets the requirements mentioned in the rules.
I can't wait to see this year's entries.
Remember you can submit them individually or altogether. :3
Round 1: Origin
It's time for your character to start their adventure; be sure to show their home world or whatever world they have settled in. Make sure they are dressed for travel!
Round 2: Battle
Your adventurer is making some headway into their journey and are starting to learn the ropes of what it takes to fight the darkness. Show us t
And just like that, Tamami is ready to host the Kingdom Hearts Royal 2017 pageant! The official start date is June 1st but if you want to get cracking on your entries then feel free to do so. I'll be busy working on the Zelda pageant I'll be hosting after this one. OTL
This years example showcases Tamami's journey through Kingdom Hearts II, from her departure from her home in the Destiny Islands with her moogle friend Goo and her gummi ship the Valkyrie, to her debuting her more versatile keyblade armor while casting one of her signature spells, Stardust, and finally her lovely redesigned ball gown at the royal ball held at the Disney Castle after the adventure.
Finally finished this up and I love the turn out. QwQ I had so much fun working on these different outfits and I also found a wonderful color scheme that looks great with Tama. So double win. XD
Tamami & Art
(c)
theRainbowOverlord
&
Queen-of-Color
Kingdom Hearts (c) Square Enix & Disney
Base by
aerieyena
with edits by me.

OMG soooo beautiful! Everything about this just looks so amazing and perfect! I love her armour! <3
Reply


Aww, thank you very much! It's so nice to finally have her done. XD Glad you like her new armor. <33
Reply

omg she looks so pretty!!

Reply

*CLAPS* she is sooo pretty!!!!!!
Reply

Reply

Reply