Good Morning everyone

We are almost summer season and lots of flowers started to bloom.
Here Lantanas were so beautiful and I couldn't resist shooting them <3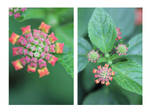 I was looking for other colors to feature on my deviantart page. If you guys can find any other colors or know any photographer that deserved to be featured please tag him/her in this post.
Let us start