So i guess this is where i would put a description.

Well how do you do? I'm Ryan, I like drawing amateur artwork, Film Lover, Game Enthusiast, I like drinking on Sundays and long walks along the beach. Winner Winner Chicken Dinner. Woot Woot Chicken Soup.

Can you tell i'm writing this at 3am? Yeah that's pretty much when i get most of my lame ideas.


Fuck it here's all my social media/YouTube accounts. Shameless Promotion!

Social Media Nonsense

Video Platforms (Let's Plays, Speedpaints, Occasional Reviews, Random Nonsense)
YouTube:www.youtube.com/user/thepsycho…

RIP Vidme!
Vid.Me :vid.me/PsychoticEnigma

Twitter: @PsychoEnigmaYT

Artwork/Comic Tumblr - :psychoticenigmacomic.tumblr.co…

Video Production/Personal Tumblr - :ThePsychoticEnigmaOfficial

Ask Grant Forelli Tumblr-
:ask-grant-forelli.tumblr.com/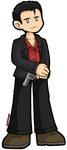 Add me on Xbox 360/ Xbox One
Gamertag: ExtremeRyan93 (Yes the name sucks but i was young and stupid!)

Add me on PS3/PS4
PSN Name: PsychoticNigma

Please be noted that if you do follow me, I do take hiatuses quite often due to bouts of depression.