Tagged by



and

And that was very long time ago...
Rules:
1. Post these rules.
2. Post 8 facts about your character.
3. Tag 8 other people along with the characters you want them to write about (which leads to rule 4).
4. Post their avatars and write the character names next to them.
5. NO TAG BACK!
(Tagged twice)
Two asked about xotiation characters and one just said ocs and one didnt specify any character so I just pic one random, That will be 4 oc!
My mean girl Sael!
1. After Sael found the flyer for Xotiathon, she took it to some nearby soldiers. Who in return took her to Kahya. Sael didn't have a say in the matter and the trip to the city Kahya was in took 16 hours. Sael just disappeared from the village and returned after around 34 hours only to return with just enough time to pack a bag before she was shipped of to the tournament.
2. Its common for Esan couples to have 9 children. If Saels family members follow that norm and no one had died from the disease or murder it would be possible for Sael to have around 144 cousins.
3. Sael is both a racist and a speciest. even if she and Hanet are seen as friends Sael would still see herself as better because of her race and would describe hanet with racist comments like "He is cool for a Rantel". Sael also avoid referring to aliens at Xotiation by their names and pronomes. They are all an "it" to her.
4. Saels mom is a runt of her family that was already of low status, because of this Sael and her siblings are seen as the lowest of the low and it is hard for them to get any respect from other Esans.
5. Sael doesn't like her youngest brother. She thinks he is too lazy and a disgrace to the family.
6. The village Sael lives in a bit of a mix race village. The biggest part of the population are Rantels.
7. The village is located on a mountain side, not impossible to get to but its rocky, uneven ground and a bit of a climb.
8.
Sael isn't very educated and only know the more common subjects.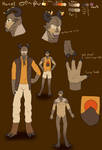 Hanet
1. Unlike Sael, Hanet is quite the catch. As he is in good health, has a job and help taking care of his younger siblings.
2. Like Sael Hanet is a racist, he is not a fan of the other Rosadian races, he thinks they are too barbaric. He is only ok with hanging out with Sael as he think she isn't a threat. But is wary of her older brothers.
3. Hanets dad left when Hanet was around 8 years. It's common for Rosadian couples to only be together until the child don't need as much help. Can walk on their own, feed themself and things like that.
4. Hanets has two younger half siblings.
5. Hanet is 17 years older than the oldest of his younger siblings. Their fathers left the family earlier the normal because he thought Hanet could continue helping taking care of the children.
6. Hanet suddenly got a message that was being shipped of planet but didnt know to where or why. It isn't until he meet up Sael at the ship he got filled in what was happening.
7. He is worried about his siblings as the now don't have any adults looking after them. Sael asked her brother to look after them but while Hanet is grateful for her trying to help, he just doesn't trust her brothers very much.
8.
When he and Sael have been needed to climb a steep cliff and its to hard to go around. Hanet ties a rope around his weist and the other end is tied around Sael. Hanet then climb the mountainside with almost no problem while Sael just dangle below him.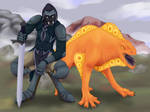 Kahya
1. Official Kahya is a high ranked general but is treated more like royalty by Rosadians.
2. Kahya is something called a devil blood, she is a bred soldier and is bigger and stronger than others of her kind.
3. While she is one of the highest ranked devil blooded is mostly just other Esan that act like her words is the absolute law.
4. Its common for devil bloods to have extremely violent personality but kahya is one if the more calm and her aggression behavior is more over the fact she knows she can be.
5. Her sword was made with pieces of her hair and blood in it. It make it possible for her to summon it with the help of her shadow powers if she would drop it or have it taken away from her. It does not work if she doesnt know where it is. or if it doe much obsticles
6. One reason why she let Sael go to Xotiation was that she would need to fight other aliens and so show others the rosadian's strength.
7. Kahya hate when people gets in her way. If someone tries to stop her to talk or if they just simply accidently gets infront of her when she is walking, she would either trow them at some nearby hard object or simply kill them.
8. Normaly devil blood would be in a breding program too get more strong soilder, but Kahya so far have refuse any suitors as she see them to be too low for her.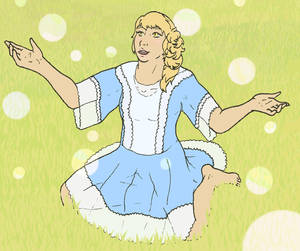 My sweet little Angel
1. Angel is ¼ Shiklin (alien) and ¾ elemental (Shapeshifters).
2. She known to have a kind personality. But can be a snob and talk shit about others behind their backs.
3. Angel is scared of cockroaches, spiders, her uncle and cousins.
4. She has a mountain of stuffed toy in the room.
5. She rarely talk or have eye contact with her uncle, and he think she does that with everyone and bully her to "toughen" her up, with only cause her to get more scared around him.
6. Her mother love both Angel and her brother but favors Angel more and often gets new clothes
7. Thanks to her Shiklin heritage she got healing powers but its not as strong as her brother.
8. She and her brother goes to a private school



Also had this, ten character challange:

Everyone's characters have a special place in their heart, but exactly what place do your top 10 favorite OC's take up? Fill out the places below, and then explain why you chose them, if you you feel like it!
Don't have 10 characters? Go for as many as you have!

1. Your Fursona/Persona!
Your character that represents you!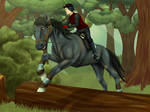 I mean this is from an online game and I just made myself, Does that count?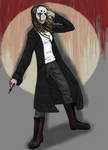 Ok have this one too. But its very old and I dont use it anymore exept for my icon that I havent bothered to change yet.

2. Your 'Guardian Angel'
You protect yourself through them, vent through them etc, they keep you strong.
You probably have a deep emotional connection with this character.

I use characters from shows for things like that, dont draw or write just imagine them in sad situations..
Or maybe Demond, when Im mad I imagine him destroying stuff or killing people I hate. Wouldnt call him an "angel"...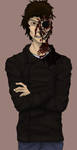 3. Your Sunshine!
A character that never fails to make you smile. Maybe they have bright colors.
or maybe they are very cute. A character who's your own personal sun.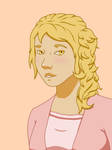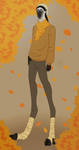 Angel and Nankal my sweet babies. Dont force me to choose!

4. The Odd One
The odd ball character you're not sure why you have, but you treasure them deeply. Perhaps because they're just so weird?

I cant think of anyone. :/

5. Sentimental Value
Okay, now who has the most sentimental value? Maybe a character you received from a friend, or who you have fond memories of. Perhaps they're very old?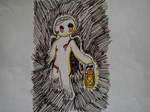 Holy, an evil angel oc that I made when I was an angsty nine year old.

6. The fancy one!
Your flashiest character! Probably the prettiest one or the one with the most fancy design.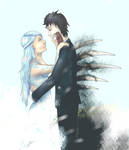 (the lady) Crystal! I need to draw her again, she has a gorgeous new dress that I need to draw.

7. The rare one!
'The rarity' How about a character you're so surprised you actually managed to get. You probably won't be letting go of them anytime soon!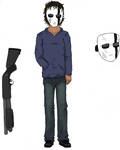 Suppose Derek fit the best? "Normal" human dude? Most of my "human" oc are magic or not actual humans.

8. Weird Attachment


Sael, She was just suppose to be for xotiation and then be forgotten but I love my cannibalistic asshole.

9. The Fandom character
You heard me! Everyone's got one, fork them over!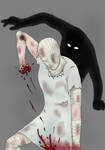 Kelly and natt, Creepypasta ocs. Got another onebut I deciden on Kelly.

10. The newbie
Okay who just joined your family of characters? Let's see them!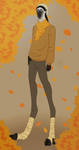 Nankal is the newest I have drawn but I am working on some new characters