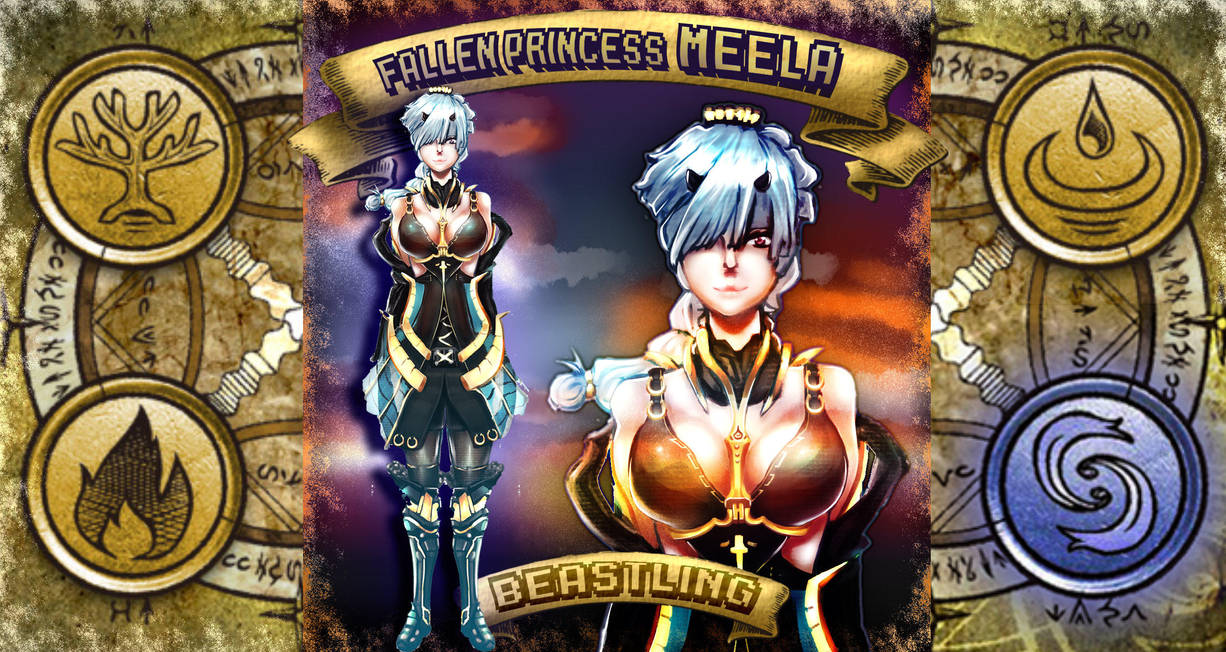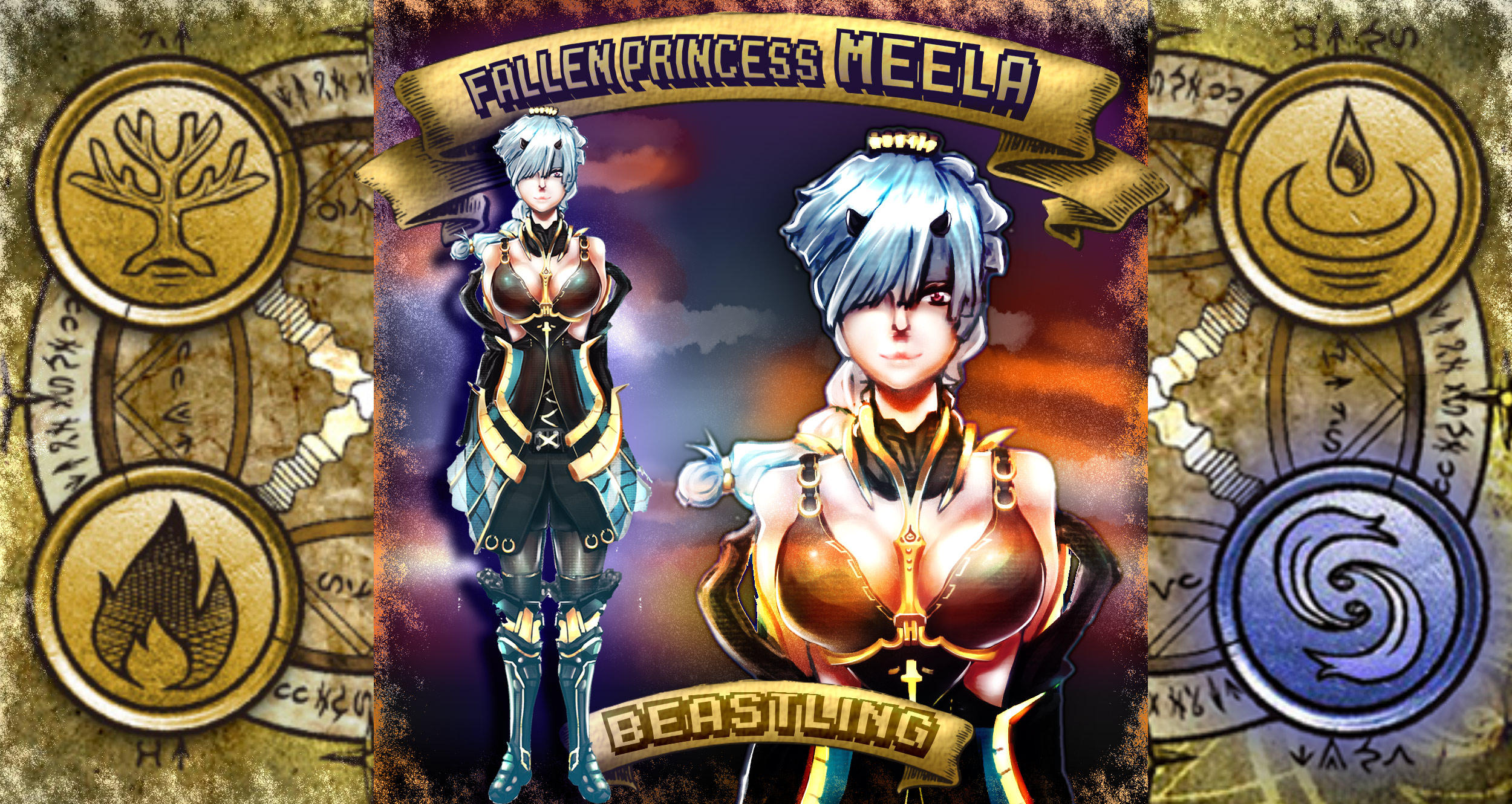 Watch
Name
: Meela
Age
: 21
Height
: 165cm
Weight
: 56 kg
Element
:
Jupiter
Utility Psynergy
:
Reveal
- Allows the user to reveal secrets. Learned directly by the beastmen tribe.
Class
: Beastling - Rank: Beastling
Weapon
: Black Thorn (knuckles)
Personality
: When you casually talk to her, she's a polite person and caring person. She's open for jokes and can be pretty lazy sometimes. Due to her decision from a few years ago to life and travel by herself, she's not much of a talking person in general. She tries to fit into groups tho and be a valuable party member, if the situation should happen eventually. Also her past always strikes back at her. In the past years, she managed to control her feelings, which only come out of her, if she's really stressed or sad. Sometimes this gives her an advantage in battle, as she gets more agressive and faster. When she can't handle her anger too well, she can become reckless and go beserk, which can be dangerous for her and her teammates as well. This is also one point, why she decided to fight alone in the past.
History
: Meela was born in one of the nomadic tribes, which survived the cataclysmic event. Affected by the radiation of psynergy, some people began to adapt monster and beast abilites. Some were able to see sharp like an eagle, while others could hear as good as wolfes.
As she still was a child, her father and her two brothers began teaching her how to survive in the world. All of her family members have two small horns on their foreheads, which were named by the people into the "dragon thorns". As the third child and only daughter of the tribe chief, she was loved by most residents and respected for her kindness towards everybody of the tribe.
As time went on, the happy life of Meela and her brothers changed. The tribe chief died to a disease, brought to the people by monsters. Sadness trickled slowly over the whole tribe, especially onto Meela and her brothers. With no leader, the tribe went out of control, confused over the sudden death of their strong leader. And chaos and confusion attracted monsters.
While her brothers, Meela and a few others were busy defending the tribe from the more frequent monster attacks, voices inside the tribe began to question: "Was the illness of the chief really a coincidence?" and over time, people began to stir dark thoughts.
On one fateful day, Meela came back from a scouting mission with a friend and as they approached the tribe, dark clouds tinted in red rose up above the area. As fast as they could, both ran back towards their home. As they approached the city, they started to hear loud voice under the sounds of the crackling fire. As she approached the tribes center, she saw them. Both of her brothers, lying on the ground, tinted like the clouds, not moving an inch and tribes people surrounding them, with burning torches in their hands. "Down with the dragons, who brought darkness to our tribe! Down with the dragons, who brought darkness to our tribe! Down with the dragons, who brought darkness to our tribe!".
Meela just stood there. She couldn't understand. Her friend who was standing next to her, suddenly grabbed her by the arm and shouted "She is here!!". All the eyes turned around. Evil and hatred filled glances stared at Meela. She perplexed and slowly turned her head around to her friend, only to see in the same lifeless, hatred eyes, as the other people. In her state, she barely was able to free herself from the grab. And then she run. She run. Run as fast as she could. Away from the tribe, away from the people, away from her fallen brothers.
In the following time, she traveled around many different places, learnt how to live by herself and survive in the wild. Thanks to her strong affinity to wind psynergy, she was welcomed in many cities, because of the rareness of jupiter adepts these days. Recently she moved to the Capital, searching for jobs. After losing her family, she wants to get stronger and get even more experiences, to be able to protect, the people she loves and to eradicate those who harm people. Everywhere she goes, people who know from her story, call her "the fallen princess".
Likes
:
+ Figthing/brawling/challenges
+ Discovering dungeons/ancient ruins/weapon merchants secret outlet
+ Beeing lazy sometimes/like a cat
+ Taking the most efficient route, she thinks is best for solving problems
+ Pranking people a bit
Dislikes:
- "Talk much, dont be useful" - people
- People, who live on cost of others (rich kings etc.)
- Getting reminded of her past
- beeing useless, when other count on her
- Using beastmode, 'cause she can't control it too well
Strengths and weaknesses:
+ Melee attacks/aggressive, quick fighting style (high attack)
+ Taking attacks head on/can take some hits (high hp)
+ Can use Psynergy while fighting/punching simitanously (with decent power)...
- ...but only close range (3 m radius)
- Is basically useless against long range fighters/needs to get close to opponents
- Psynergy resistance isn't that good
Beastmode - Strengths and weaknesses
(not unlocked yet)
(Beastmode basically switches here strenghts)


+ Long range attacks/slower, but more powerful
+ Powerful Psynergy...
(there need to be some general cooldowns and downsides for transforming into beastmode tho)
- ...but can't physically attack
- Can't move while casting
- Close-range fighters get really dangerous for her
- beastmode only lasts 1 minute
- beastmode is exhausting, so she can't use psynergy or attack for 5 minutes after beastmode turns of
- 1 use per day
Additional Information
She also gets called foul mouthed sometimes. (guess that happens when you live by yourself in the wilds)