Journal Entry:
Sun Dec 1, 2013, 12:22 PM

TPA presents talented photographers who talk about themselves and their relationship with Photography.
This month we are interviewing a multidimensional artist, Batsceba Hardy

Tell us a little bit about yourself.
I'm Italian, currently living in Berlin, whose skies I'm chasing among the clouds; but I could be anywhere.
I write stories in images and tell visions in words. What remains is superfluous, in Wittgenstein terms, including my secret background. I call myself craftsman of the Irreality, I live and will only live 'in' the net.
How did your relationship with Photography begin and how has it developed through the years?
It began when I picked up an Olympus Om2. It was very soon. I got the chance to play with acids and create rayograph. I love Polaroid too.
I have always focused on details. The time that passed. My body. Then, when I arrived in Berlin I started taking pictures of the city and its inhabitants, I mean the city life.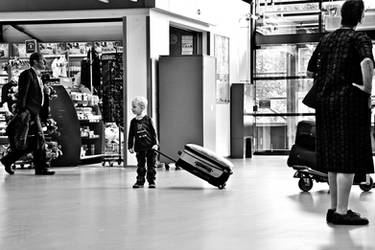 What does Photography offer you?
I think I have the desire to retell reality, and I do it taking photographs and writing.
What do you like photographing most?
Everything I see: people, objects, sounds and colours, shadows ...
I'm a photographer of the wait. I'm not looking for shots. I find them in the pauses. That's why I love taking pictures in the subway, in bars: because I wait for the right shot. All in all, it perfectly fits with my being. I'm motionless, it's life that changes my colour, my age.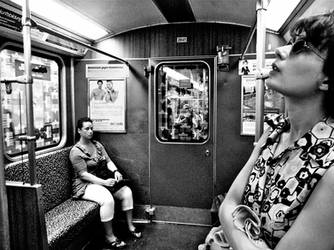 Which photographers influenced you?
Uhm... Many. Man Ray, Ansel Adams, Urs Lüthi, Cecil Beaton, Vivian Maier, Robert Doisneau, Diane Arbus, Weegee, René Groebli,
André Kertész, Helen Levitt, Elliott Erwitt, Alfred Eisenstaedt, Henri Cartier-Bresson, Richard Avedon, Yuri Bonder... The world is full of good eyes.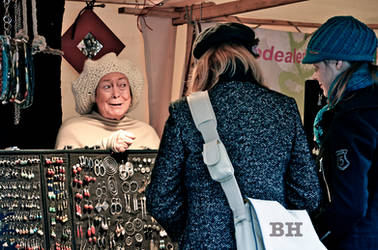 What equipment do you use?
Niki Ray (Nikon D7000)
Blue (Olimpus u9000,S9000)
Daniel (Nokia C5)
and others.... CASIO EX-Z110 - Olympus OM1 ....
I am not a traditional photographer, I believe that the means are not so important, after all ... and I don't have so much money to buy what I'd like. So
I dream of a dark room, a study, one Hasselblad, three Laica, a series of Polaroid, and more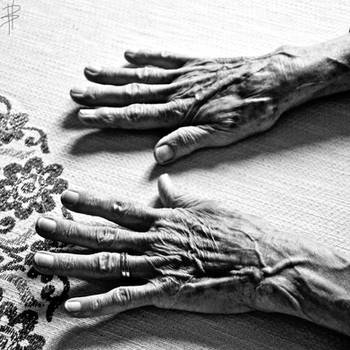 Is there a photographic project that you are working on or you would like to work on?
Yes, I'm focusing more and more on details, like in this series of images
batsceba.deviantart.com/galler…
These series of shots have been taken on two different days with my little Olympus mju 9000 just to obtain this grainy quality, because I like to think that the grain gives the images a pictorial effect not hyper-realistic….
And I'm working also on another project that I called: The other side:
"There is another world, but it is in this one." W.B. Yeats
batsceba.deviantart.com/galler…
But everything is still in my head.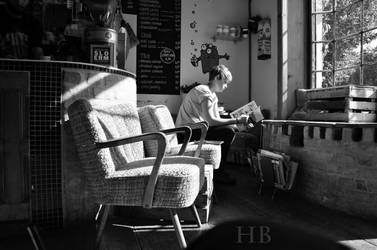 Name a few places that you would like to visit for Photography.
-New York, true paradise for a street photographer.
-Up there in the North, Alaska, Scandinavia, Scotland, Iceland ... to photograph the Aurora Borealis.
- A hot-air balloon trip, to have a view from the top, like a bird.
Choose three photos you have taken and tell us why they are special to you.
This shot, which is still analog, reminds me of the smell of the acids and the magic of the image slowly appearing before your eyes. I no longer have a dark room and the equipment to develop and print photos, and I don't like to rent other people's stuff... I am a loner, I guess ...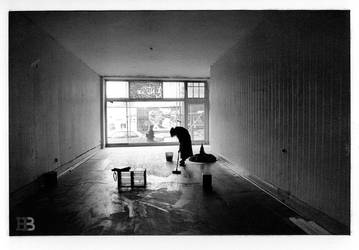 This is my first DD (not that I have taken many, only these two - both unexpected) I think it's an example of what I think is street photography.
actually I love taking photographs in restricted places: subways, coffee shops.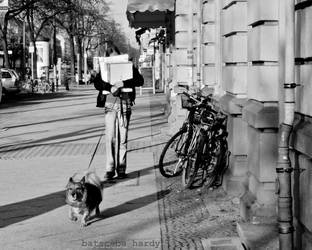 I really like this shot, sure, you'll immediately notice the difference in resolution. but there are different places and situations, and different projects.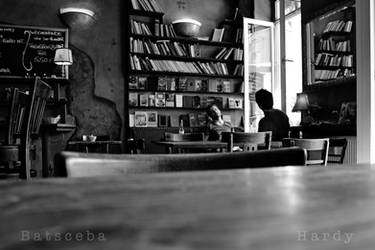 Thank you, Batsceba, for this interview!
Her page on DA
batsceba.deviantart.com/
and her personal website
www.batscebahardy.com/
are well worth a visit.