UPDATE: And here's what you've all been waiting for!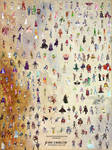 After 5 months, we've completed the collab! Thank you all very much for participating!
Here's what we posted earlier:
Yesterday was the day that we finally reached 1,000 members. Thanks so, so much for the love and support, and hopefully, you will keep it up. So to celebrate that, and the release of Fire Emblem Heroes (fire-emblem-heroes.com/en/ ), which is to have every character in the whole franchise, we are doing a collab, with all (or most) female FE characters, ranging from Shadow Dragon and the Blade of Light to Tokyo Mirage Sessions #FE, in one image. Sounds pretty fun, doesn't that sound so?
The list of finished entries: