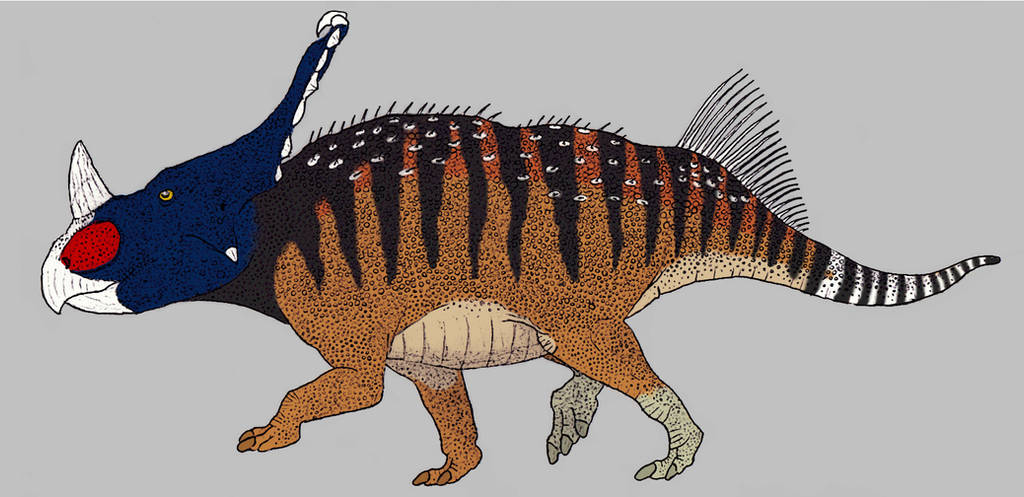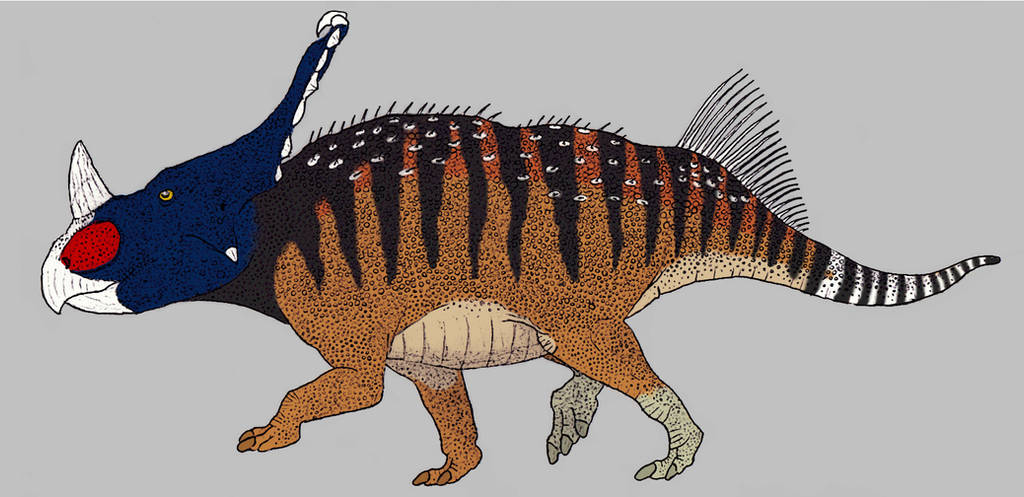 Watch
The Wandering Hornface is one of the most striking ceratopsians in the Dinosaur Park formation. Like all ceratopsians, it is an omnivore, feeding mostly on vegetation, but will supplement it's diet with carrion, and small animals.

-------

Vagaceratops. I'm not kidding, that's really it's name. Jeez, and I thought Hoplophoneus mentalis was unfair. Colour scheme originally based on the Common Pheasant, but it kind of took on a life of it's own, and evolved into tiger stripes. I figured with a name like that, the least I could do was give it a kickass colour scheme. Gave it a grey background instead of the usual white so the white parts would stand out.

What's the problem with its name?
Reply

I like the way you give it a common name!

Reply

Thank you.

Reply

Reply

Reply

Reply

Great Art !
I always wondered does there any chance to these creatures have feathers?
Reply

Their ancestors probably had feather-like structures (like the quills on the tail) but they lost them as they got bigger, like how large mammal herbivores like rhinos and elephants lost most of their hair.
Reply

Really İnteresting....Sacrifice for being bigger. Poor creatures become weak to coldness...
Reply

They don't become weaker to cold, they would get too hot if they were covered in feathers. Big herbivores need to lose heat.
Reply

Oh ! I thought feathers either use for heathing up or colding up-(depends on the type of feather.) Did They only used for heathing up and display?
Reply

I would assume so. It has been hypothesised that Pachyrhinosaurus had feathery integument as an adaption to the cold climate of Cretaceous Alaska.
Reply

İnteresting...Dinosaurs're the most interesting species/creatures I ever saw. (Either the one who had feathers or not/Or They either had feathers or not)
Reply

Haha, yes, I think the design did well to compensate

Reply