Sleep caressed his
Lost, cold, body
black fire branching
beyond the pain...
-- from
Sleep I
, by
universe-of-doodles
The Day When Technology Dies
Steampunk is a huge part of the fantasy and sci-fi universe. It is a huge part of
Realm-of-Fantasy
, too. There is something fascinating behind the zeppelins, steam engines, Victorian clothing and sky pirates, we can't deny that..
It is an alluring world where the technology, paired with everything else, becomes INCREDIBLY attractive. But hey, you don't really think that all that pollution in the air comes with no consequences, right?
My eyes glowed blue, too bright

whirred too fast, my hamster heart.

Dust shook from my hands;

in steam, were cooled and dripped down
--from
routine maintenance
, by
Lychalis


In our own world, in our own reality, environmental dangers are a daily subject of discussion and we have a lot of reasons to be worried, with the population numbers always increasing, this year having been incredibly hot, and global warming, and air pollution levels, and summer fires contributing to that, and on and on...

What about their world? Should they be worried, and how worried?


The Prompt

The Earth is in full-on steampunk era -- the industrial advances have been huge, however, the sky has never been more gloomy. The stars haven't been seen in a while. More people are coughing than not, and a rumor is spreading: we're exhausting Earth's resources faster than we can replenish them. Much faster...

How would you live through such a moment in history? Would you be the silent onlooker, the avid consumer regardless of what the future holds, or would you be the innovator, the mind at work towards a solution that won't kick civilization back to the Middle Ages?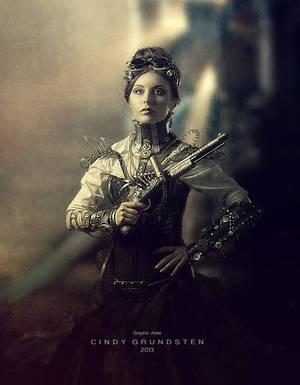 Your gift was once intelligence and for it you suffer now

Perpetually forced to rewire a failing body and not miss

The things you are replacing, muscle and flesh and blood.

The silence is never empty for a clockwork man.
-- from The Silence Is Never Empty, by silverhelme
Your prompt, either visual or written, is to show (or tell) us your story. In a steampunk world where the leaders of society belittled environmental issues until they became huge enough to swallow the planet, where do you stand?


Will you be locked in your basement, working on a new project to convert smog into...?
Or spend your nights partying, ignoring the problems because you know they've pushed the limits too far, enjoying what's left of nature while you can?
What about the higher members of society? What about the elves? It's up to you who you choose to portray, or what -- our only limit is that
it needs to be a complete piece. No WIPs!
Show us a steampunk world where what used to be freedom thanks to technological advances is a crippling curse no one knows how to get free from. Show us a steampunk world where the citizens flee from the machinery and contraptions, miserable and abandoned, or cling to it because they know no other life.
Show us a steampunk world where its most attractive thing is also what's destroying it -- and how you will save (or condemn) it!
With some harder challenges to increase the fun...
Your first harder challenge is this:
Visual artist? You can only use greyscale colours for your scene, and ONE additional colour of your choice.
Writer? You must write in second person.

Your over-9000 difficulty level challenge is...
Visual artist? Your scene MUST include a written part. A graffiti on a wall, a Dead Or Alive pamphlet, a thought/speech bubble, anything as long as it's in there.
Writer? Your piece can't contain dialogue.
Create a deviation using BOTH these harder challenges to increase your likelihood of winning our prize! And since we got talking about prizes...
What do you get for participating in this prompt?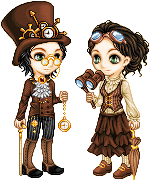 Well, apart from eternal glory and a place in a
super-exclusive gallery folder for winners of the Prompt challenges only
, you will be awarded a one-month Core Membership from
TheMaidenInBlack
!
You have
time until September 30th
to create your deviation!
Link us
in the comments of this journal to your work to enter the competition.

Winner will be announced when the next journal is released!
The keys of destiny are yours...
how will you shape this world?