Stan |
|
|
| Single
Eh everyone and welcome to my deviantart page. On this page i mostly draw art for others and my ocs Stan, Sapphire, Cole, Adam, and Calie, beware i ship a lot like Nicole X Purple Wall being my OTP. here we support Ocs and cannon charterers. My favrite song of all time is lucky lucky by lucky twice. i hope you all love my art and stay awhile!!!
Backup/stamp account

RP and Traditional art account

Real life buddies





Interweb friends










(want to be on this list? or did i forget you. Note me)
My Fav Artists And Inspirations!!!









The Bruh Squad





The Female Furry Squad!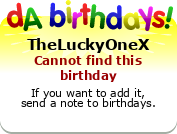 Get your own CrushTag!
Get a FREE visitor map for your site!