As a child Princess' mother always told her that, little Princess' father was a real king! and therefore her mother always called her Princess Tiio.
Princess always though that her name 'Kaniehtiio' was a formality that only her family/mate would be allowed to use, since her mother never used that name when presenting her to others.
So to Princess, the name she would forever use in public, would undoubtedly be 'Princess'.
All parts
The perfect little bobble Part 1
Bobble burst Part 2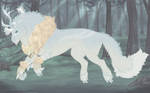 Import Link:
Kaniehtiio 1892
Skill Learning:
Highborn
Image details
Image size
2840x2841px 5.63 MB