Our mission is to honor the hero of the Legend of Zelda games!
And we speak Spanish too!
Meet others Link's fans, make new awesome friends
and show us your great artwork!
How to Join

Is very simple, click the
"Join group"
button at the top of the page.
If you dont want to get SATURATED with our deviations stack,
you can always UNWATCH the group
How do I submit

Go to our gallery and then to the
correct folder
,
click the "+", choose your deviation and then submit.
Submissions

Read the
RULES
before submitting

Submissions are
2
per week and are subject to vote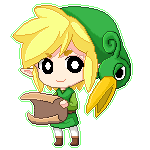 Icon made by
RealTRgamer